Our 10 Biggest World Travel Fails – D'oh!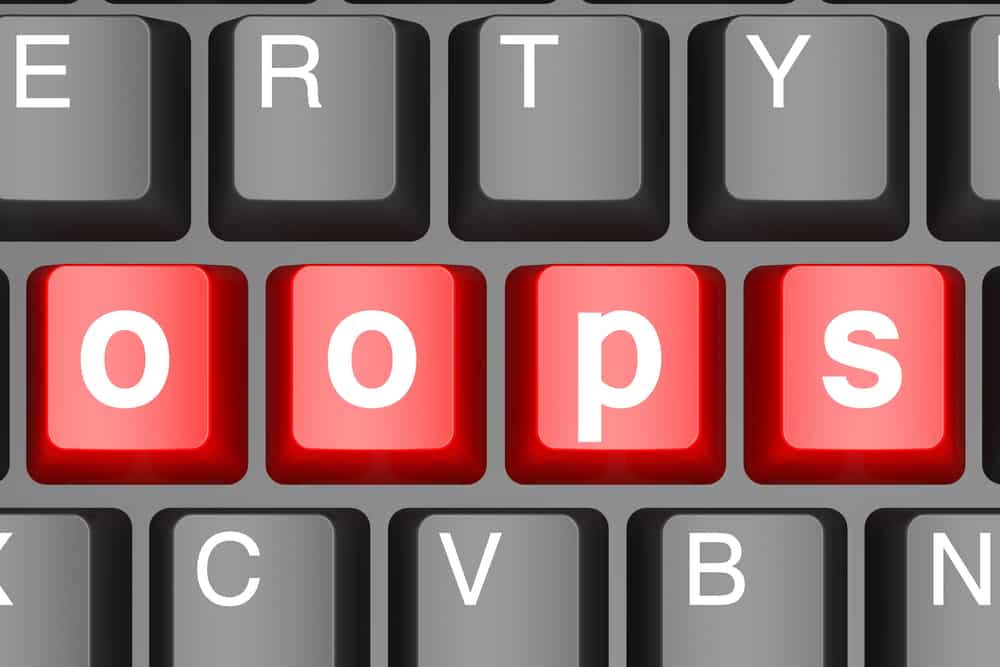 Fails are bound to happen when you travel.
Of course, they often happen when you least expect them.
However, we did travel with an open mind, expecting there would be challenges along the way.
We even expected some moments where we'd panic and think, "what the heck do we do now?!"
But thankfully, I'm not much of a panic merchant.
While some experiences have been really hard and emotional, I always knew we'd push through them and work out a solution. Worrying doesn't change anything.
And look, here we are! We're quite okay despite the setbacks.
Our Biggest World Travel Fails
So for your education, and more possibly entertainment, here are our 10 biggest world travel fails. I hope you enjoy them more than we did – at the time!
>> WANT MORE HOLIDAYS, MORE MEMORIES AND MORE FUN?! Check out a quick 5-minute video to find out how you can travel with your family more often, and better yet – earn money while you do it! <<
#1: Luggage, Schmuggage
On our very first trip, to our very first location, we had a major luggage fail.
Before we left for our trip, we researched what sort of luggage would be best for long term travel.
But we ended up buying a mish mash of all sorts of styles and brands, so we could try them out for ourselves and report back to those following our trip.
Unfortunately, the first piece of luggage to bail on us was by far the most expensive!
We invested in a quality brand hard case, expecting it to outlive all of the other bags. But it dropped out of the race from the start.
What happened?!
When we were leaving the first Fiji resort, we decided to transfer via boat to the next resort.
When the luggage was stowed (or should I say, tossed) into the boat, the case cracked, and one of the four wheels was hanging off. We had to ditch it.
Luggage manufacturers will not replace luggage for this sort of 'wear and tear'.
Travel insurance may, depending on your policy.
But it was a pain in the butt having to dispose of and lose what was our biggest suitcase (mine).
A quality brand hardcase, gone like that!
Bye bye dollars, you were so not worth it!
#2: A Bad Start To Bali
We were very sad to leave the powder white sands and aqua blue waters of the Pacific islands.
Nor was I that keen to visit Bali after a bad experience many years ago, pre-children.
Not to mention all the dramas at the time, with two Australians about to be executed at that time.
Perhaps I willed myself into a bad start with my negative energy!
To cut a long story short, a vehicle transfer we expected to pick us up was not at the airport (we did book the first place last minute) and upon calling the hotel, they couldn't find the booking.
After cancelling our booking with them and finding somewhere else to go, I fell hard after slipping on wet concrete in the car park, leaving me with a nasty bruise.
And then, the villa we booked in replacement of the original hotel was a disaster.
It was beautiful and amazing, but it also had the same slippery issue as the airport. First, the cleaner fell over on a step outside, and we could see it really hurt.
As careful as we all tried to be after seeing that, the floor really needed a good scrub.
I ended up on my bum again, only it was while I was holding our toddler, so I hurt myself again, trying to save her from the fall.
Everyone else was skidding around but thankfully they were okay.
The internet wasn't working, there was no phone in the room and apparently due to a storm, the TV antenna was broken.
So we had a miserable old start to Bali, but it got so much better.
The stay after the villa was one of our favourites of all our travels.
In fact, most of the family would agree, it was the best.
#3: Here Snakey Snakey
Yep. We had a snake in our room while in Bali.
It was in a very nice five star hotel I was writing a review for.
Not only that, it was Nyepi.
Nyepi is the Balinese New Year, requiring lights to be off overnight. It's stuff nightmares are made of, right?
Of course, it was myself who almost stepped on the darn thing, and I had no idea if it was poisonous or not.
Thankfully, the staff responded very professionally and quickly.
They were so apologetic, and seemed even more horrified than I was. I know these things happen, it's life.
But I understand their worries as guests can be demanding sometimes.
#4 The Train of Terror
It was a rookie error – we didn't check dates when we booked our train travel from Nha Trang to Denang in Vietnam.
It was the Reunification celebration weekend (more like a week of celebrations!) and the trains were heavily booked.
We knew we should get first class tickets and book the whole cabin so we'd have it to ourselves – with all our luggage and children, we'd need it.
The beds were also the most comfortable available.
But only second class were available.
When we got to our cabin of six beds in a rickety old train, there were already two Vietnamese women in the bottom beds, with around four children between them.
So we had to somehow stow our five pieces of luggage and two backpacks, plus all our bodies in the four beds that were left.
It was not a comfortable ride, and the bed I shared with my toddler didn't go as planned – she decided she wanted it all to herself and kept pushing me out the way.
The toilet had no toilet paper and it was disgusting. It stank and there was water everywhere I put off going until I couldn't wait any longer. I felt so dirty.
We arrived at our destination and immediately tore off our clothes and threw ourselves in the shower. It was so good to wash that off.
#5: Cambodia Border Crossing
Because we found out it would be super cheap and not to long to cross from Vietnam to Cambodia via bus, we thought we could put up with half the day in a bus.
But it was the rudest welcome into a country we've ever had!
When you cross via land, you're at the front line of their best corruption.
They will try and scam you out of every penny you have.
You need to get visas, only there are no signs at the first processing gate, so when you think they're asking for your money to pay your visa fee, it's actually for them to pocket.
Then they will fight you on other issues to. Read my full post about it here, and never go via bus into Cambodia, unless you have no choice.
It was horrible.
Other scams people get caught out on at the crossing include the ATM scam.
They tell you there are no ATMs in Cambodia, so you need to get money from them.
Always be worded up on scams before you travel to another country and know that the people in Cambodia are embarrassed by this behaviour.
Corruption at a high level is a very sad thing, but it happens in so many countries.
#6: A Travelling Parent's Worst Nightmare
If you haven't read my post about this yet, you can do so here.
It was one of the scariest things in my life, and one of my worst as a parent.
Imagine being in a stunning, mountainous rural area. Clouds dart in and out of the mountain tops, rice fields are everywhere and it's just so incredibly peaceful. Your whole family is loving this amazing new find of a location, when suddenly, your daughter falls ill.
It's very clear that she needs emergency surgery.
How would you feel if you knew it would be 3-4 hours before you could get treatment (and it would have been pain relief too, if I hadn't begged them to help her with her pain). It was just harrowing!
As much as this was an awful situation, it doesn't deter me from travelling to remote locations. These thing happen, and thankfully, not often.
#7: Back In Hospital Again, Missing A Flight
Around a week later after Marisa had been discharged from hospital, it was the day we were to fly from Chiang Mai back to Bangkok, so we could head off to Hong Kong the following day. Only Marisa woke up with a terrible case of gastro (stomach bug). She had started vomiting overnight and was pale and weak.
I knew we'd miss our flight that day. But we took her to the hospital as she couldn't eat or drink, and we knew we needed a certificate from the doctor anyway.
We had full intentions of helping her to get some fluids into her so she'd perk up, but the doctor was worried about her and wanted her in overnight. It's take time to run a drip through her, and they wanted to give her meds so she would try and drink water or eat something.
So after lots of messing around, I stayed in the hospital (again!) with Marisa and everyone else flew to Bangkok.
Otherwise we'd have to forfeit all of our tickets, and forfeiting two was better than five, as well as buying five more. Thankfully, after another night in the hospital, she was able to fly, and we just made our flights to Hong Kong! However, it was another expensive exercise we really didn't need or want.
Our budget was now completely flushed down the toilet, as we had to pay up front for these two hospital admissions, which had accumulated significantly. So my nerves were totally shot at this point. Then, this happened:
#8: Accidental Visa Overstay
After thinking we finally made it over the hump and re-organising our flights and accommodation, we were wrong.
Upon passing through immigration to leave Thailand, we were told to come to the immigration office due to a problem with our visa.
We hadn't realised it, but due to everything going on, we didn't even realise we were a day or two past our visa expiration. We had to pay $1,000 baht each. I tried to explain we were in hospital, twice, and presented paperwork to prove it. But the very stern and direct immigration officer spat out at me, "You could have gone to Visa office!", as if I was at military boot camp.
After trying to explain I couldn't, as I literally got out of hospital with my daughter, they offered to waive the fees for the kids. We were so happy to leave and start a new adventure elsewhere.
#9: A Fun Trip In Hong Kong
After we arrived at the Hong Kong airport, we caught the bus to get to our apartment. My first thought was, "Dayum, these bus drivers drive like hooligans." They zip in and out like Formula 1 race car drivers, grinding to a halt at the stop. Only on our trip, the driver had to stop suddenly behind a car, slamming on the brakes.
We all had no hope – I was holding our toddler in my arms and a pole with the other, and everyone else was hanging onto a pole too… that was until the near accident happened. I tried to break my fall, but landed flat on my back, with the toddler's leg under me, so she was in tears. My son barrelled into the front of the bus (right at the front door), with the toddler's breakfast in hand (which we have no idea where it went, but he had his hands firmly on the empty container, haha!). Doug and my older daughter just crashed into each other, having had a prime view of the whole event unfolding.
My son and I both had bumps and bruises – I must have fallen on my bum first as I was in pain sitting on it for days! I had a cut and bleeding toe too, but we had to get off the bus and walk back to our stop… because he'd driven a stop or two too far, for whatever reason.
#10: Leaving An iPod Behind
In the rush of getting Marisa to hospital, she left her iPod behind on the hotel's bedside table.
We called the hotel, and after negotiations, I paid for them to post the iPod to us at our next location.
However, the Thai post wouldn't allow a battery to be posted. So I asked them to try another way of doing it. We were given a massive quote from Fed Ex which made it seem way too ridiculous to worry about. However, Marisa had 2,000 travel photos that she didn't want to lose.
Thankfully, we may be able to get help from other wonderful worldschooling families who are often in and out of Thailand. So we asked for a refund from the hotel and now the iPod will have a travel journey of it's own to tell.
…
While these things might have been annoying or frustrating, even scary, it was all part of our amazing journey, which is fast coming to an end (boo). We've learned so much along the way, and we know that one day, we'll be able to sit back and laugh at all these crazy things.
>> WANT MORE HOLIDAYS, MORE MEMORIES AND MORE FUN?! Check out a quick 5-minute video to find out how you can travel with your family more often, and better yet – earn money while you do it! <<
---
Kelly Winder is the creator of BellyBelly.com.au, a doula, writer and mother to three awesome children. In 2015 she travelled the world for 12 months with her three children, and hopes to inspire more families to do the same.
---