Why We'll NEVER Cross The Cambodian Border By Bus Again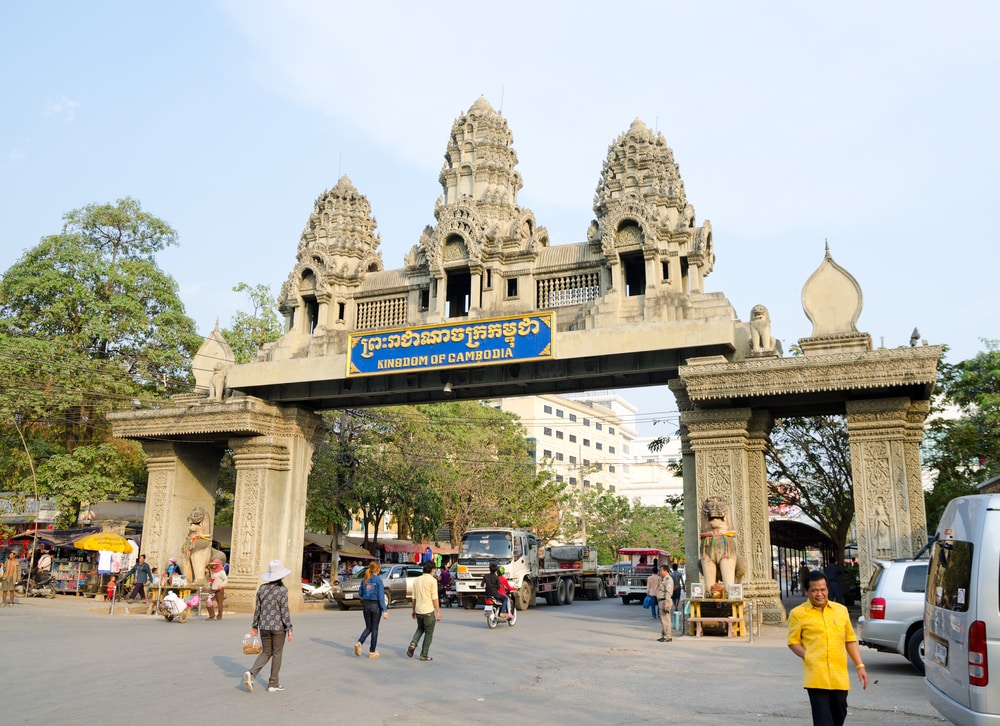 We did our research. We knew it was common to get scammed when crossing the border into Cambodia. So I double and triple checked with recent travellers to Cambodia about what they paid and what was involved.
We knew to expect a fee of $30USD per person. We knew that children twelve years old and under were not charged when travelling with parents. We knew that we should expect a $2USD fee for using the photo from our passports, since we didn't have our own passport sized photos. And of course, we knew that it was common to get scammed with money exchanging, so we took the exact money, as per many travellers had advised us. So the night before we left Vietnam, we made sure we had $100USD.
Unfortunately, the day started terribly. We woke up at 5:30am only to miss our 6:30am bus with Sinh Tourist — the company we had been using for the last 6 weeks in Vietnam. Yes, we should have left the hotel sooner. But the combo of having to wait until hotel staff had checked that we hadn't used the minibar as well as a taxi driver going on a goose chase, we had no hope. I knew Sinh Tourist only went into Cambodia once or twice daily, and our visas expired that day. So we had to work out a solution.
Thankfully, the bus company had an arrangement with another bus company, Long Phuong. We were so relieved, we'd still arrive at a decent hour, as it was only 2 hours later than our first bus.
Not long after the bus set off, one of the staff members on board started collecting passports and visa money. He asked us for $175 USD, which was not $30USD per person, but $35USD. Right away we refused, saying we knew kids under 12 were free. But he couldn't speak very good English, so he gave back our passports and left.
Soon, our friend came back with his cell phone, handing it to my partner. It was someone from the bus company who could speak English. He explained that if we wanted to get off and process our passports ourselves, then we could do that, but the bus wouldn't wait for us. We'd have to take our luggage off the bus and get a motorbike taxi or some other transport to catch up to the bus at the resting point. That sounded a little risky, and scary that anything could happen in that time. We didn't want to be stranded at the border.
I quickly googled some information to show the bus staff that we shouldn't be charged. He just said, "Sorry, I don't speak English."
I could not understand why they seemed to understand everything we said, aside from the fact that we knew kids 12 and under were free. So we weren't going to pay $70USD for two children who didn't need it. I even shot through an email to Sinh Tourist, asking for help. They told us that it was the law to pay $35 per person per visa, so please pay it. I responded saying we knew kids were free and sent a link to show them. There was no reply.
Crossing the Cambodian Border
My partner and I were scrambling at what to do, thinking of lots of possible solutions and scenarios. Right as we reached the border and were about to get off, my daughter dropped a full tub of yoghurt on the floor and it bounced and went everywhere. My partner started pulling the bags out of the bus (which were stowed at the back of the bus and not underneath for some reason) when I told him to run inside and start the process. I took my time cleaning up the yoghurt to try and think of a solution. Eventually the driver hurried me along so he could move forward, so I left the bus and went to join my family in the queue.
It was like a cattle truck in the very first room. It's where you scan your carry on luggage and get your passport stamped. There are no priceboards anywhere to see what the visas will cost — you simply wait in line to be stamped before you exit.
After waiting a while, a man in a white shirt came up to Doug (who was holding the 5 passports in his hands) and tried to take them off him. He said he something about stamping the visas. We had no idea what he was trying to do (potential scammer?), so Doug refused. He came back a second time with the staff member from the bus company, and told us to come over so we could get stamps in the passports. Finally, it looked like the bus company was trying to help us.
The man in the white shirt looked through all our passports, and we again explained that we weren't paying for two of the kids. He took his time looking at all the previous stamps in our passport and said, "Okay. Five dollar." Doug looked at me with a, "What the heck?" glance and we thought there had been some mistake. Thinking that was the visa fee, Doug asked the man in white, "For all 5 passports?" to which he said yes. So we paid the $5USD and soon after got through with a stamped passport. We thought we were in serious luck, from an expected $90USD to $5USD. It didn't seem right, and we don't know what happened, but we went with it. What we didn't know is someone just pocketed $5 from our set budget.
So, we all got back into the bus and thought we were off and good to go. But the bus stopped again within metres and we had to go through another gate. Things weren't looking good at this point. We knew we had exact money, so if we had to pay for more than we budgeted for, we'd be in trouble. There are no ATM's or any other facilities at the border crossing if you need money.
Surely enough, there were officials wanting payment. The man in the white shirt was still along with us, asking for payment for all five again. We gave him all we had — enough for the three of us — and refused to pay any more than that. He stuck his head into the office of the official and spoke to him, returning to tell us that we do have to pay for them. It started to get very frustrating. I stuck my head into the office at the man's suggestion. I showed the officer the website that stated children 12 and under travelling with parents were free of charge. The two men had an exchange and agreed we could go forward.
Something I noticed was that there was a sign above the official offices. They mentioned two types of visas, a standard visa and a tourist visa. One being $30USD (tourist visa from memory) and one being $35USD. I didn't know enough about the differences, but I would have thought we were on a tourist visa. Anyway… we proceeded past the next gate.
We hoped this would be the end of it. But it wasn't. When we got onto the bus, they came and chased us for the photo money for each passport. Only they wanted $5 per person to copy the passport photo for our visa photo. That was more than double what we knew others had been charged. We had given these people all the USD we had, including the $5 which I have no idea what was for. So we were at a stalemate.
They refused to get off the bus without payment, when my partner remembered Marisa, my 13 year old daughter, had some US currency. She was able to find $9 USD, which they took out her hand before letting us be. Marisa slumped down in her chair and cried. She told me it was her 'special money' which her dad had given her from the US. I felt sick, sad and angry. I gave her a huge hug and thanked her for what she did, but I felt rotten on the inside. I couldn't believe it had happened.
After all that, they hit us one more time, again coming on the bus saying we were $10USD short. For what, I have no freaking idea, even now. But they had taken all the currency we had, plus my poor daughter's money, so we told them flat out that it wasn't happening. They told us we'd have to get the money out at an ATM when we arrived into the bus station. So when we arrived into Phnom Penh, they guarded our bags and escorted my partner to the ATM to get it, but we felt so sick and over it we just did it. We wanted the ordeal over, which is what I am sure they count on when scamming you.
The whole process was extraordinarily scammy and stressful — I have never in my life experienced such a situation. The trip was just loaded with so many problems, that I would never ever wish it upon any family. Trying to look after your kids while keeping on top of such incessant scamming — where they all claim not to speak english — takes a toll on everyone.
For now on, we'll just work harder and cross borders by plane. We had no troubles in Vietnam with big bus rides between cities. We actually enjoyed it. But crossing the border by land, forget it. It was a memory I don't want to have ever again.
Photo credit: withGod / Shutterstock.com
---
Kelly Winder is the creator of BellyBelly.com.au, a doula, writer and mother to three awesome children. Currently she's travelling the world for 12 months with her partner and three children, and hopes to inspire more families to do the same.
---