6 Easy Ways To Travel Around Vietnam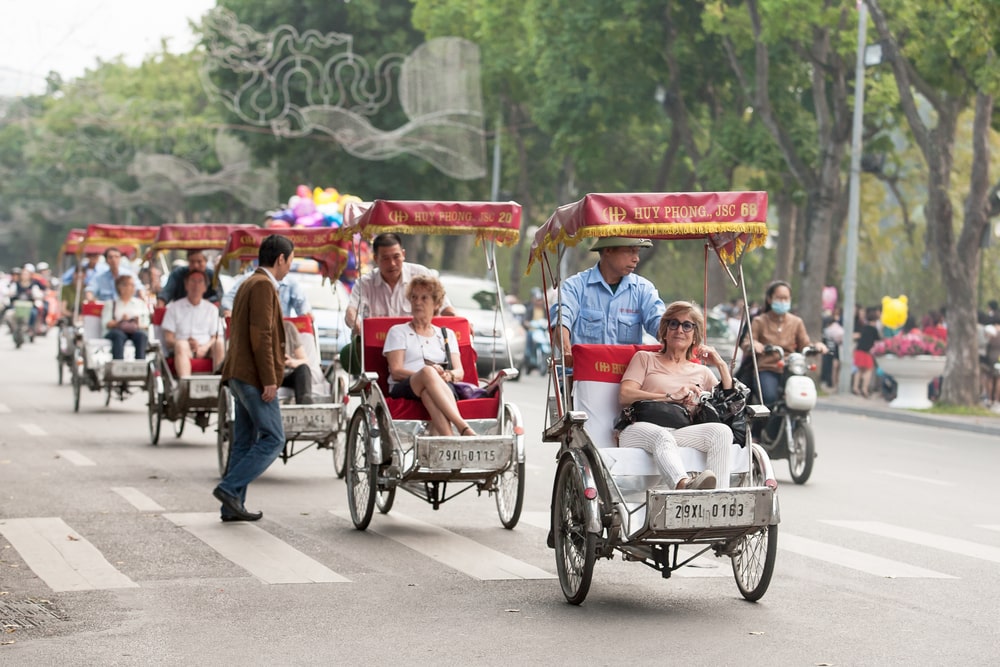 Once you arrive in Vietnam, getting around is an important thing to consider — and the easier and cheaper the better, right?
Vietnam is a deceptively big country, because it spans vertically, not horizontally.
This means that you can experience a range of weather conditions and terrain.
From beautiful mountain surrounds to stunning beaches and sand dunes — Vietnam has it all.
Most tourists do want to see the different things Vietnam has to offer, so with a bit of planning, you can cover a great deal of ground for an unbelievable price.
Now, you have no excuse to stay in just one city!
Every Vietnamese city has something special and unique to offer.
Before you decide where you're going, consider these cheap and easy ways to travel around Vietnam — you'll be so glad you did!
6 Cheap And Easy Ways To Travel Around Vietnam
To really experience Vietnam, combine all 6 of these travel methods and you'll have a blast!
Ways To Travel Around Vietnam #1: Taxi
Catching a taxi in Vietnam is unbelievably cheap compared to Australia. Especially when you have children with you, an air conditioned taxi can be the best option for shorter distances.
Stick to the bigger taxi chain companies to avoid being ripped off — Vinasun and Mai Linh are very popular.
They use meters every time, so there's no need for negotiations. We've used some smaller companies too, but we've been very selective and ensured they'd use a meter.
Having data on your mobile phone is a help because you can use GPS to track where you are, and you can look up any addresses or directions for the driver, in the case that language is an issue (which often it is).
One taxi driver we met had decent english and offered to drive us around for the whole day for 800,000 dong. That's less than $50 Australian — wherever we wanted to go.
But for travelling longer distances, the below three options are even more cost effective.
>> WANT MORE HOLIDAYS, MORE MEMORIES AND MORE FUN?! Check out a quick 5-minute video to find out how you can travel with your family more often, and better yet – earn money while you do it! <<
Ways To Travel Around Vietnam #2: Bus
Getting to other cities in Vietnam is a breeze with reputable bus companies.
We used SinhTourist who have sleeper buses (reclining seats) so you can relax and take a nap — if you don't have kids jumping all over you.
Not only do they travel all over Vietnam, but they can get you to Cambodia (from Ho Chi Minh City) very cheaply and quickly.
You can get to Mui Ne, a city famous for it's stunning sand dunes, beaches and kite surfing in 8 hours.
All for only 99,000 dong per person, which equates to $5.80 Australian or $4.60 US.
Or you can duck across to Phnom Penh, Cambodia, in just 6.5 hours via Ho Chi Minh City for 189,000 dong ($11.12 AU). Cheap as chips!
Only travel by bus during the day. Night bus travel is very unsafe with the rough roads, construction work and drivers pushing past their limits.
If you want to travel by night, the next option is a great one.
Ways To Travel Around Vietnam #3: Train
Train travel is another quick and cheap way to get around Vietnam.
Train services run from Ho Chi Minh City to Hanoi — and you can even get to Hong Kong!
It's quicker than a bus, so better for those longer journeys.
Travelling overnight is a great way to save money on accommodation and travel long distances at the same time.
However, always try and purchase the more comfortable 4-berth soft sleeper cabins.
That way, your family can have a whole cabin to yourself.
If you only need 3 beds, buy the fourth, it's cheap and will give you more room to stow your bags.
Having a soft sleeper means you'll get a thicker mattress than a hard sleeper cabin. A hard sleeper cabin is 6-berth.
If you must get hard sleeper tickets, you'd want to buy all 6 seats. We travelled during a peak period and all we could get was hard sleeper tickets.
The bottom two beds were taken up by two Vietnamese women and numerous kids, with little room for all our luggage. So we had the four beds above them (3 levels a side).
It was a very rough night, especially since my toddler decided she wanted the whole bed to herself, and it took me a week for my stiff neck to stop giving me bad headaches. Ouch.
Unlike the bus, overnight train travel is much safer and recommended.
Ways To Travel Around Vietnam #4: Plane
As long as you book well ahead of your date, travelling between cities can be very quick and very cheap. I found fares as low as $25 a seat, but silly me left it too long to book and it went up.
If you try and book last minute, you'll get slugged hard.
If you're travelling a particularly long distance (for example Ho Chi Minh City to Hanoi), it might be wise to fly, especially with young children. However for short distances, skip the plane.
When you fly, you miss out on so much epic scenery. All the kids (aged 2.5, 10, and 13) as well as my partner and I loved our bus rides, which was a huge surprise.
Being able to stretch out and lie down makes it so easy and comfortable, as you take in all Vietnam has to offer.
You can fly around Vietnam via Jetstar Asia, Air Asia, VietJet Air or Vietnam Airlines.
Ways To Travel Around Vietnam #5: Cyclo
Cyclos are those funny looking bikes which have a seat on the front, with a driver peddling on the back.
They are lots of of fun, especially at night – it's a must to take the family out for an hour to see the vibrant nightlife of Vietnam. The Vietnamese really make use of lighting here, and it's so beautiful!
However, please organise a reliable and trustworthy cyclo driver through your hotel or tour company to make sure you have a safe and enjoyable trip.
Ways To Travel Around Vietnam #6: Boat
From dragon boats to cruises on a junk, Vietnam offers a range of ways to see this beautiful country on the water.
Dragon boats can take you for a leisurely cruise on the Perfume River, or they can transport you to one of many of Vietnam's attractions and tourist spots, including tombs of past kings and markets.
Taking a cruise on a junk isn't cheap, and it's best to avoid the cheaper junk cruises, because your safety matters.
However it is an unforgettable experience climbing aboard a junk and spending a night or two cruising the stunning and magical Halong Bay.
It's one of those things you need to have on your bucket list — if you don't do it on your next visit, make sure it's definitely on the one after.
>> WANT MORE HOLIDAYS, MORE MEMORIES AND MORE FUN?! Check out a quick 5-minute video to find out how you can travel with your family more often, and better yet – earn money while you do it! <<
---
Kelly Winder is the creator of BellyBelly.com.au, a doula, writer and mother to three awesome children. Currently she's travelling the world for 12 months with her partner and three children, and hopes to inspire more families to do the same.
---