10 Best Memories From 2 Months of Family World Travel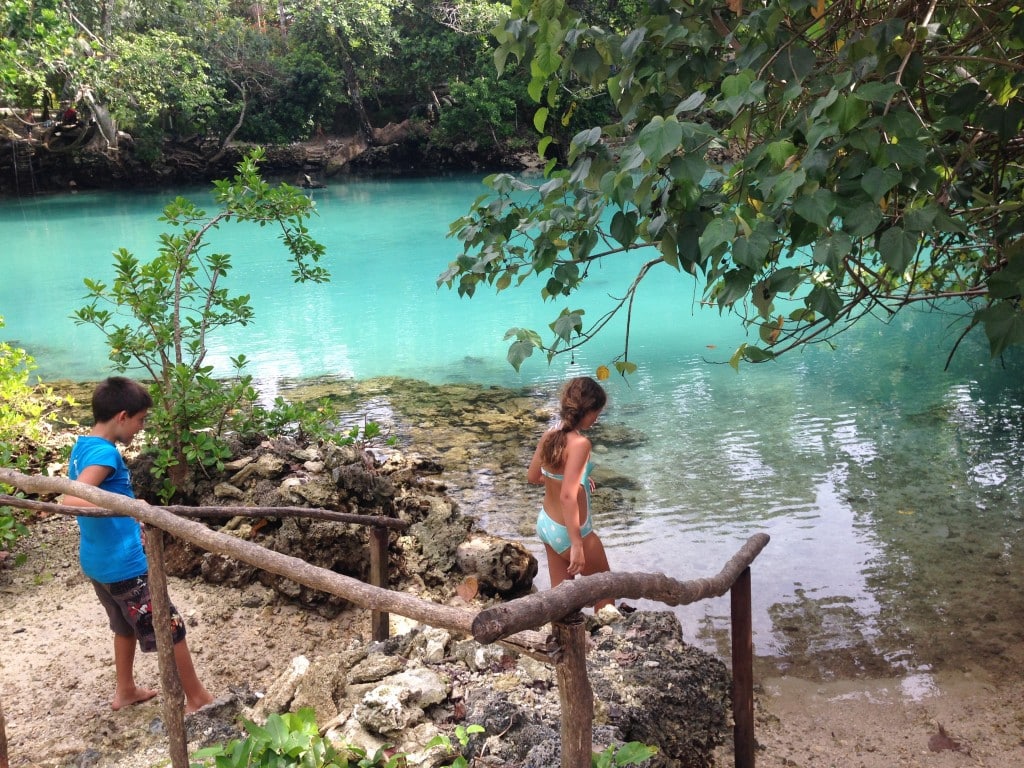 Two months of family world travel has provided an encyclopedia of amazing memories and experiences. It's come with its fair share of challenges too, but when you add up all the magical moments, there are just so many. It's a struggle to pick a few!
Recently, I mentioned to Doug how two months back home is usually just two months back home. More often than not, there's nothing out of the ordinary to report. Work, school, eat, sleep… day tends to blend into day, and nothing ever really changes that much. Do you ever remember your best day at home?
Comparing the way we lived last year to the way we live now, it's such a massive difference. I had a "Sliding Doors" moment (you know — the movie starring Gwyneth Paltrow), imagining what our lives could have been like if we made another choice. We're so glad we took the leap.
So, on our two month travel anniversary, here are our 10 favourite memories of family world travel, which was spent exploring the stunning South Pacific and beautiful Bali.
1. Seeing The Kids Parasailing
This special memory happened early on in our journey, and it was a total trip for me! Not only did my partner's 11 year old son (who had a fear of flying prior to joining us in Fiji) ask to go parasailing, but my 12 year old daughter wanted a turn too. Then they wanted to go again!
It was the first, very special moment, and it demonstrated how big of a deal world travel really is. It gives you the opportunity to see what your kids are truly capable of, and how amazing they really are — more than you already think, which is heaps!
2. Fire Dancing Shows
We've seen fire dancing shows in Fiji, Vanuatu and Bali — all of them equally mesmerising and hypnotic. The kids never say no to seeing yet another fire dancing show, which is great because as parents, we wouldn't either! The skill and visual display always leaves us in awe, no matter how many times we've seen it.
3. Modriki Island Trip
During our stay at the gorgeous Malolo Island Resort, we went on a trip to Modriki Island.
Modriki Island is where the movie "Castaway" (featuring Tom Hanks) was filmed. The weather was a little rough so the water was a bit stirred up, but it was great to walk the island on our own, as well as snorkel nearby islands and sandbars.
The most memorable snorkelling moment was reaching a massive drop-off, together as a family. The water was a stunning turquoise blue, and the drop was so deep that it didn't seem to end. A mix of awe and adrenaline kicked in for all of us, and the feeling hasn't left us! When we think about the experience, it takes us right back there.
4. Dinner On The Beach
We've been so lucky to have dined on a few beautiful beaches for dinner, and it's been an amazing experience. The first resort we visited in Fiji, Plantation Island Resort, had plenty of tables on the beach. We always chose the table closest to the water, and with sand in the toes, we'd enjoy a delicious dinner. During high tide, sometimes the water would come up to your feet too! We loved it.
Another night we dined at the adults only resort, Lomani, which is a very short walk from Plantation Island Resort. The service was amazing, as was the delicious food. The sun went down and the stars came out… all while the kids were having fun with a babysitter.
5. Swimming In The Blue Lagoon
During a half day trip in Vanuatu, we visited the Blue Lagoon — a lagoon filled with ice blue water like we have never seen before. It was quiet, only one other visitor was there, so the kids got to swing from a rope into the lagoon and see a variety of amazing fish. It was chilly water, but it felt magical, like you were somewhere rare and precious.
6. Seeing The Kids Go Wild At Dreamworld
Not long after we arrived at Dreamworld, it was less than a minute after turning my back before the kids had raced off to the most stomach curdling ride I have seen. In just 5 seconds, this beast of a ride drops 119 metres, which is the equivalent of a 39 storey building. My kids are nuts. But I love 'em.
As much as I was an avid upside-down and inside-out ride-goer as a teenager, I knew the Giant Drop would be not agree with my belly. It wasn't the heights that bothered me. But as soon as you become a parent, I think they take your steel belly powers away with the placenta.
Ride after ride, my eldest two were after as many thrills as they could get – it was surprising, but also amazing to see! I never thought they'd be up it. But I guess, after weeks of pushing comfort zones, what more was a short ride in a seat?
Amaya got her kicks seeing the Wiggles perform live at Dreamworld that morning — we were right by the stage! She danced her butt off to all her favourite songs on top of my shoulders, and she made sure everyone joined in. It was just gorgeous. The kids did not want to leave.
7. Going Wild Myself…
Okay, so I was curious. Much to my children's delight, I got on this thing which goes up to 161 kilometres per hour in seven — yes seven — seconds. Then came the 100 metre freefall drop. I think if it was any higher, I would have lost my stomach out of my body. I hit my limit. The ride has an automatic camera, which takes photos as you're headed back in (really fast). But I won't scare you and post it here — it looks like my skin is melting off my face — or just taking some time to catch up with the rest of my head. I'm such a rad mum!
8. Club Service At The Intercontinental Bali
My kids thought they had died and gone to heaven… okay, so did we. We all felt thoroughly spoilt by the amazing team at the Intercontinental Bali. Many places we visited left us feeling special and spoilt, however it's amazing how little things can make a difference. The kids especially loved daily high tea in the club, where they could have a pot of tea, scones with jam and cream and other treats.
At the Intercontinental, staff bent over backwards to do whatever they could, even retrieve Amaya's shoe from the huge koi pond — which was so brown, you couldn't see the bottom of it! Then there were the pools…. just stunning.
9. Jimbaran Bay
We will never forget the captivating Jimbaran Bay sunsets. Standing on the fine, silky soft beach as the waves came thundering in, I felt so grounded and in touch with nature.
Some people choose to dine at the fresh seafood restaurants that line the bay, where the freshest catch of the day can be cooked and served for you, right on the beach. Others choose to walk the long stretch of beach, feeling energised and wowed at the beauty of the sun going down.
Sigh, take me back!
10. Seeing the DevDan show
The most recent memory that the whole family loved was seeing the DevDan show in Nusa Dua, Bali. A colourful, high energy dancing performance, showcasing traditional Indonesian dances unlike we'd seen before. Even two year old Amaya was captivated, until she fell asleep half way through – it was a little late for her. But we were so glad we were all able to see it.
So there you go – 10 magical memories, yet so many more. They could be yours, if you decide. Get started planning your dream trip by finding out how to to make money work for you HERE.
---
Kelly Winder is the creator of BellyBelly.com.au, a doula, writer and mother to three awesome children. In 2015 she travelled the world for 12 months with her three children, and hopes to inspire more families to do the same.
---