10 Ways Your Family Can Afford To Travel The World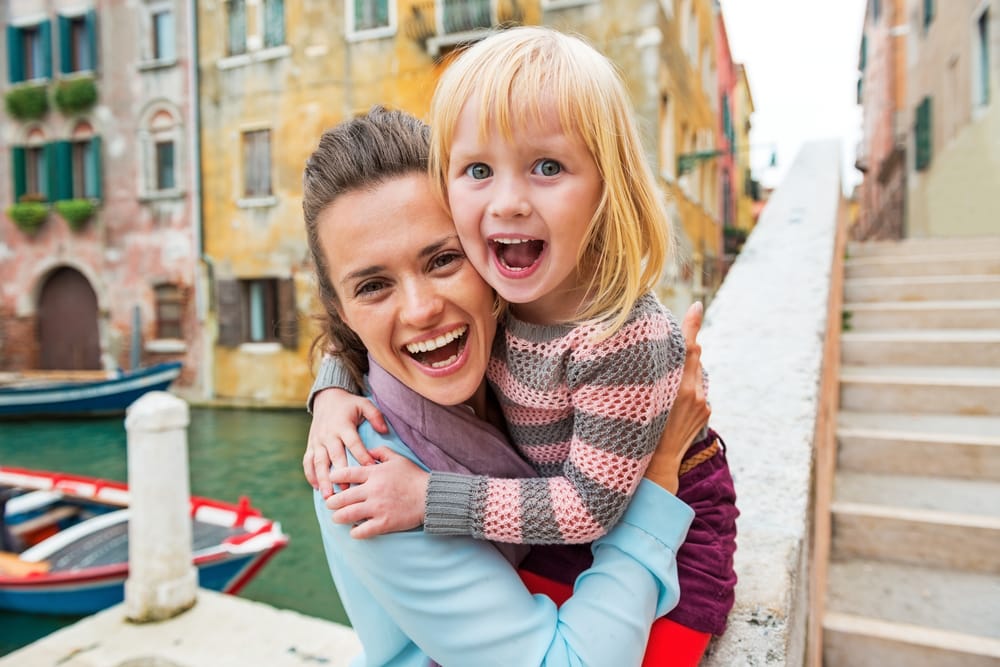 It's the million dollar question:
"How can a family afford to travel the world?"
The biggest misconception about world travellers is that they have a tonne of money in the bank, when the truth is, we've just learnt how to do it without spending a fortune. Not only that, but travelling families often recommence travelling after they return home, because they find it cheaper than living in their home country. True story.
The great news is, it's not rocket science, so you can learn how to do it too! But how soon and how long you get traveling is up to the choices you make.
There are lots of ways families can make long term travel work out financially. The more methods you combine, the easier it'll be.
At Around The World + Kids, we're using several of these methods listed below to comfortably travel the world for 12 months.
Bear in mind that every family has their own idea of comfortable travel, so by being flexible and not expecting 4-5 star luxury, you open more doors and can travel sooner. I do like comforts and splurging on luxury when I can, but I was very happy to find a comfortable room plus breakfast in Vietnam for $40 AUD per night – and you can find even cheaper that that. Booking cheap and comfortable accommodation is easy, but more about that in another article.
Here are 10 ways your family can afford to travel the world:
1. Selling Assets
Some families sell off assets in order to have a decent amount of money in the bank to travel long term. The assets may include the family car (as in our case), the house, the contents of the house (we did some of this) or any recreational items they own, like a boat or caravan. Some families sell everything they own in order to live out their dreams.
How far you're willing to go will depend on how committed you are to travelling and how long you intend to travel for.
Either way, selling assets can be a simple way to provide instant funds for your travels.
2. Renting Out Your Home
If you own your home and don't want to sell, you can put your belongings into storage and rent out your property while you travel.
By renting out your home, you'll earn rental income to cover your mortgage repayments, and if you're lucky, it can provide disposable income at the same time.
In Australia, real estate agency fees are usually around 7% of your rental income, however, in some cases you can negotiate. We did, and we're paying less than 7%, so it never hurts to ask.
3. Switching To Interest Only
On the topic of mortgages, by switching to an interest only loan for your property while you travel, it will result in more cash in your pocket. You'll only be paying for the interest component of your home loan, so while you wont make any progress paying it off, it can free up money so you have disposable income.
Something which could make it even sweeter for you is if you remortgage your home with another lender at a better rate, switch to interest only and free up some money to use for your travels.
Please note that I'm not a financial advisor, so please seek advice before making big decisions. We highly recommend Declan Hanratty from Vanquish Finance Group – he's done an amazing job for us and is unbiased and trustworthy, and can help anyone in Australia.
4. Savings
If saving all of your pennies is your only strategy for long term travel, it can be a slower road to get there. Also, you will likely find it frustrating if you miss out on all the things you enjoy, for months or even years while you save. But as mentioned earlier, it doesn't have to be all or nothing.
By all means, cut costs and save as best you can before you travel, but know that you can use savings as part of your travel strategy – all hope isn't lost if you don't have $20,000 or more in the bank.
Personally, I believe putting your spare money into any credit card debt is way better than letting money sit in a savings account. The interest rate you'll be charged on your credit card will so much higher than interest made in savings accounts.
The last thing you want is a pile of credit card bills — and interest — to hamper your travels. Not to mention a full credit card that is of no use to you in case of emergencies.
Pay off what debt you can before you think about a saving account for travel.
5. Use Frequent Flyer Points
Let me guess: "But I don't fly very often, how on earth can I use this strategy?"
It's actually quite simple.
We paid for an international flight for all five of us using frequent flyer points — without having gotten onto a plane.
How? Most frequent flyer programs are affiliated with many other businesses and services.
Credit cards. Supermarkets. Petrol stations. Technology companies. Hotels.
You can earn frequent flyer points by not only shopping at these places, but by paying for purchases with your frequent flyer affiliated credit card. Think about how much you spend every single day – you could be earning points for those purchases. It can quickly add up.
Something to bear in mind when signing up for frequent flyer credit cards: you should look out for bonus offers. Credit card providers regularly offer attractive sign up bonuses of around 40,000-50,000 points, which will give you a great start on your points tally.
Absolutely be in control of your credit card at all times. But with good management, you can quickly and easily earn frequent flyer points to pay for flights, upgrades, accommodation and more.
6. Register For Volunteer Work
On volunteer websites like HelpX, you can work an average of 4 hours per day in exchange for free accommodation and meals.
Simply search through the HelpX database for a range of work offers that may have you and your family helping out on a dairy farm in Ireland, painting a community centre in New Zealand or providing an extra pair of hands anywhere across Europe.
Of course, not all places will be suitable for families, but opportunities for families do exist.
7. Register For Housesitting
Popular housesitting websites like Trusted Housesitters gives your family the opportunity to care for other people's homes all over the world.
Imagine what it would be like having a few weeks accommodation in the beautiful countryside of France or Italy… for free!
In exchange, you usually need to care for pets or perhaps the garden while the owners are away.
Homeowners will state in their listing if they are happy to accept families or not. While some families find their choices are somewhat limited, there are also plenty of success stories.
8. Using Business Income
If you have a business — or if you start a business — you can use business income to help fund your world travels.
If you have a business, write down all the tasks you do in one day, then outsource all the tasks that you really don't need to do personally. You'll free up time while still making money.
You can find cost-effective contractors from around the world on Elance. From virtual assistants to copywriters, you'll be able to keep your business running smoothly without having to do it all.
If you want more information on how to free up your time and have your business work for you while you travel, I highly recommend reading The Four Hour Work Week by Tim Ferriss, as well as other books as listed in my recommended reading list. They'll teach you everything you need to know about getting started and making the shift.
9. Work As A Freelancer
Trust me, it's highly likely that you've got skills (and time) that other people want.
There's a fast growing movement of digital nomads — regular workers who just need an internet connection to make money. Usually, it's in countries that have cheaper living expenses than back home, making it even easier.
Digital nomads either work remotely doing what they are trained to do for a living, for example web development, graphic design or proofreading, or they decide on a career change, and learn new skills that are suited to a travelling lifestyle.
In fact, many of BellyBelly's current and past team have worked in locations all around the world. Some travel frequently and others have made a sea change, taking their family to another country to live for a while.
How do you get started? Websites like Elance can make the dream of long term world travel come true for you.
Take stock of all your skills – write them all down. What are you good at and what do you enjoy? Perhaps you might remember that you're pretty skilled at spreadsheets, sales or article writing. See what's on offer and apply for some jobs.
You've got nothing to lose by giving it a go. Just be prepared to do some lower paying jobs to get started, building up a reputation and client base. There are lots of people wanting bargain basement work, but plenty do want quality and will pay for it.
If you're currently in a job that requires you to be face to face, you have a couple of options. You can ask your workplace if you can transfer into a role that allows you to work remotely. If not, you could look for a job that does.
Another option is to start looking into courses so you can gain more skills in what you are most interested in doing remotely. Simply train before you travel and you're set.
10. Work Abroad
Some people are surprised to learn that their skills are indeed transferrable in other countries.
It's well worth doing your research, because I know of others who have been pleasantly surprised to hear they could earn a wage while travelling – nursing was an example of this.
If you work in hospitality, it's very easy to find work while you travel. It may even be something you want to train in before you go.
How about teaching english? In many countries, you do not need training because they provide it for you. As a bonus, sometimes accommodation or other perks are also provided. As you can imagine, this is a popular stepping stone for long term travellers.
Some countries require you to have a TESOL (Teachers of English to Speakers of Other Languages) certification or similar degree, so if you'd like to get a head start, you can find out more information at the Australian TESOL website. If you're not Australian, google a TESOL organisation in your home country. Courses are fairly quick to do and can be undertaken either online or face to face. Ready to start looking for jobs? Try here.
A Final Note
See, it wasn't that complicated after all, was it?! As you may have begun to see, it's not about luck or inheritance. It's about learning. Remember: if you don't know your options, you don't have any!
You really have no excuses – Brent and Stacey-Jean were awarded National Geographic's Travelers of the Year. They have a family of eleven, including four adopted, special needs children. Plenty of single mothers travel too.
My biggest tip for those who are desperate to travel with their family is to get learning and reading.
If you're serious about heading off on world travel, being proactive and learning all you can will make your dreams appear sooner rather than later. If you want it badly enough, you will find a way to make it work.
So, what are you waiting for?
---
Kelly Winder is the creator of BellyBelly.com.au, a doula, writer and mother to three awesome children. In 2015 she travelled the world for 12 months with her three children, and hopes to inspire more families to do the same.
---