8 Reasons Why Fiji Was Our First Stop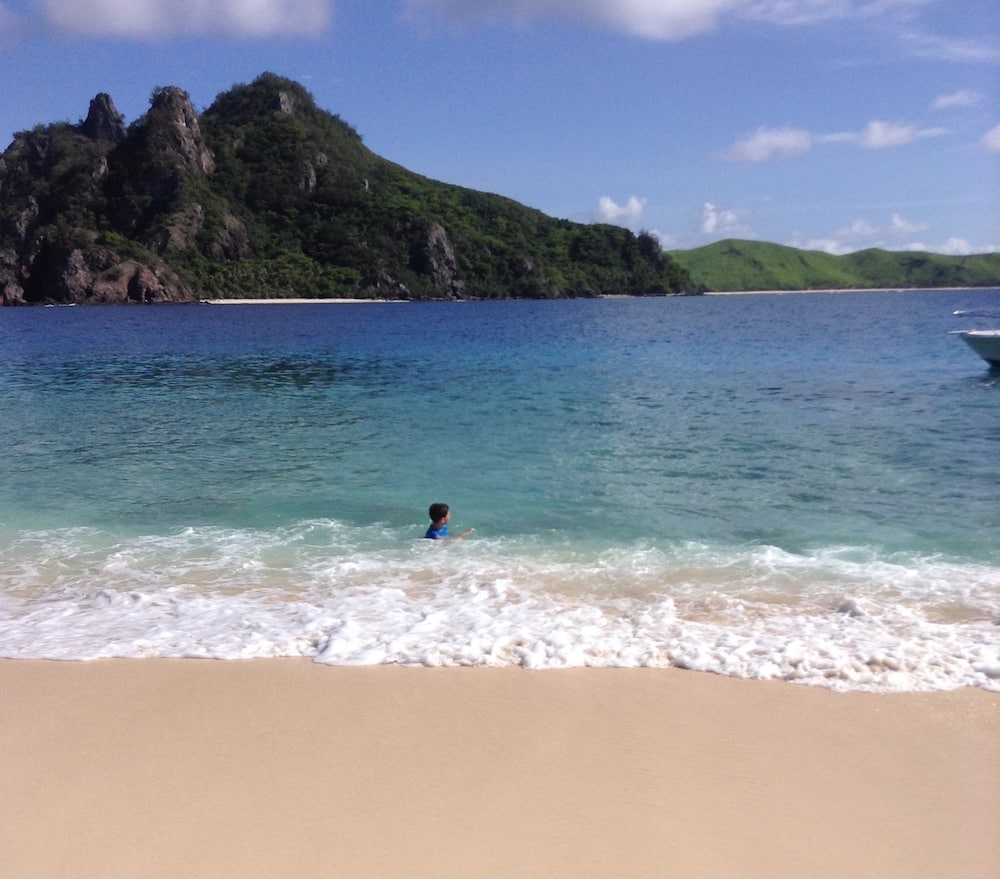 When we made the decision to travel the world, choosing the first place to visit was a very easy choice, since we knew exactly what we hoped to achieve.
Here are 8 big reasons why we started our world travels in Fiji:
1. Fijians LOVE Children
You don't have to be long off your flight to see that Fijians love children.
No matter if you're dining at a local restaurant in Nadi or casually strolling around a resort with your family, Fijians are quick to interact with children and offer to help with them.
The tourism industry is a major source of employment for Fijians, which means that many of them work at resorts, usually away from their families. A typical work schedule is 11 days on, 3 days off, and sometimes both parents work this way. So while Fijians are in-between seeing their family again, they enjoy lavishing your children with attention, smiles and kindness.
2. We Wanted to Relax First
Well before we went through the hectic process of having to pack up our family home, stowing our personal belonging into storage and putting the house on the rental market, we had all the usual day-to-day stresses going on, as most families do.
We all agreed that starting with a nice relaxing holiday would be the perfect way to unwind and get present with ourselves, each other and our trip! Nothing else screams — err sorry — whispers "relaxing holiday" just like the South Pacific does.
3. Close Proximity To Our Home Location
By starting our journey close to home, it enabled Doug's son, Connor, to spend some time with us before starting school for the year.
Connor didn't want to come on the whole journey around the world, but being close meant that he could still be part of our trip, as well as spend more time having fun and less time flying.
Even if you don't have a similar situation, you may like other family members or friends to join you on your first stop, before you travel further away.
4. Short Flight Time
A big priority for us during our travels is keeping flights as short and direct as possible, flying overnight where we can. We want to make sure the kids are as comfortable as possible and have breaks from long flights.
Our flight to Fiji departed at 11:50pm, which meant we arrived in Fiji at 5:45am (Fiji time, one hour ahead of eastern daylight savings time in Australia) after having our toddler, Amaya, sleep the trip away in my arms. I didn't get much sleep, but for me, it was far better than a restless toddler on a long, daytime flight.
5. To Avoid Backtracking and Wasting Money on Flights
While we haven't meticulously planned out our trip (we like to travel with some planning in place, but we will travel as our needs and feelings take us) we have a rough outline of where we want to go. In order to be cost effective and to help save money, we avoid backtracking with flights.
We all definitely wanted to go to Fiji, and since it's so close to Australia, it had to be in the plan either at the very beginning, or at the very end. The very beginning won.
6. Affordability
Many people don't realise that Fiji is a third world country. It has breathtaking scenery and stunning beaches, however the Fijian people have very little in the way of resources.
There are resorts, hotels, apartments and even hostel-like accommodations to meet budgets of all sizes, so you can control what you spend on accommodation.
Flights to Fiji are regularly on special (less than $300 one way from eastern Australia), with some airlines offering reduced fares for children under 12 (infants under 2 are free).
7. Happy People!
Did you know that Fijians have been ranked amongst the happiest people in the world? According to WIN/Gallup, who are the leading association in market research and polling, 89% of Fijians reported that they are happy, which makes them amongst the top of the world's happiest people.
Fijians are such warm, community focused people, who want you to feel right at home. At most resorts, a welcoming party will sing and perform a heartwarming welcome song upon your arrival, and they will say to you, "Welcome home!"
Who better to to spend time with your family than some of the happiest people on earth?
8. A Gentle Introduction Into Long Term Travel For The Kids
By choosing somewhere relaxing, fun and easy for families, we thought it would be a better way to introduce the kids into long term travel. The longest they've ever travelled overseas was no more than two weeks, and it was only once.
Some of the places we intend on visiting will have stronger cultural and personal challenges. If we began our journey with one of those places, we may have had more trouble convincing our dear children that it was a great idea to keep travelling!
Fiji has been a great springboard into what a third world country looks and feels like, even though it offers some very comfortable options for tourists – it's certainly not how the locals live.
9. Because We Really Wanted To Go!
When we first started planning our trip around the world, I made two lists.
The first was a bucket list of all the places we really wanted to see. Not long after, I started working on a list of some of the cheapest countries to visit.
You see, when you share your plans of long term world travel, you will come across plenty of people who have negative and pessimistic personalities, who seem ready to ruin your plans and shatter your confidence.
Firstly, realise that it's not that YOU can't do it – it's that THEY can't do it.
Or, perhaps deep down you just lack a little belief in yourself.
Because I allowed the doubts of others creep into my own mind, I found I got stuck in the "cheaper places to go" list. I also I found I lost a little excitement.
Thankfully, someone I confided in reminded me that I was planning a trip in a lifetime – just for us and no-one else. Where we wanted to go should be way more important than visiting a place just because it was cost effective. What's the point of travelling the world when you're not enjoying it?
That's when I started researching about how to travel the places we always dreamed of visiting, but in a more cost effective way.
The most important thing of all is to go where your heart is calling out to. If you follow your heart, it will never be left unfulfilled.
---
Kelly Winder is the creator of BellyBelly.com.au, a doula, writer and mother to three awesome children. In 2015 she travelled the world for 12 months with her three children, and hopes to inspire more families to do the same.
---