We're Back In Australia – What Happened?!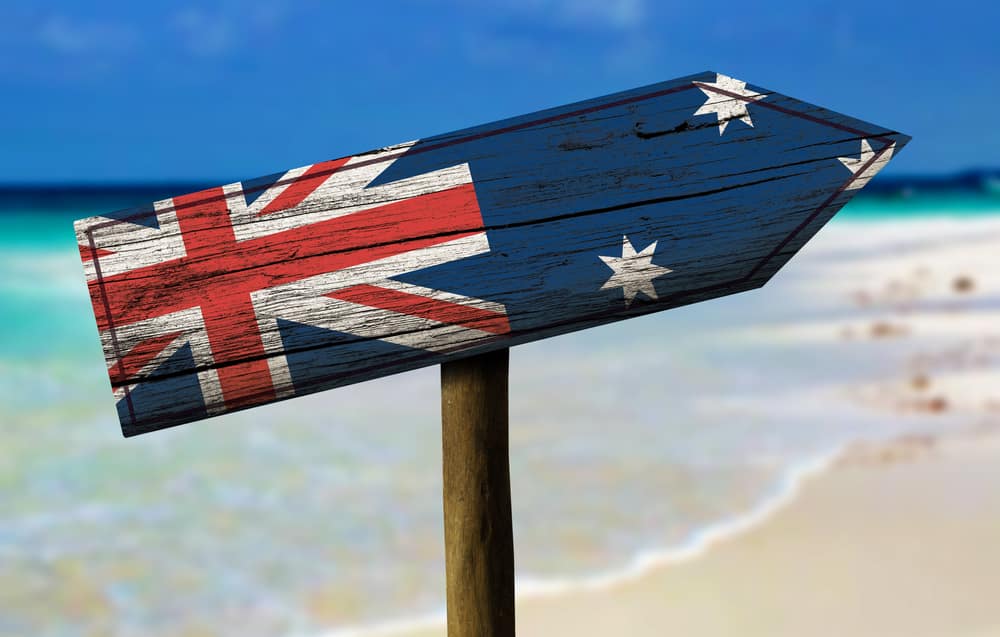 So, yesterday evening we arrived back in Australia – the Gold Coast to be exact.
Someone who knew we were headed here said to me, "Oh no, you've ruined your 'around the world' thing!"
But, Australia is part of the world too, and there was a reason we came back.
You see, when you're planning multiple flights, the routes don't always work out the way you'd like. No airline flew direct from Vanuatu to where we wanted to go next.
So, we had two choices when leaving Vanuatu:
Fly with Fiji Airways, stopping back into Fiji before flying out again, or
Fly Air Vanuatu and choose from three Australian cities (Brisbane, Sydney or Melbourne)
We had to decide between backtracking 1.5 hours to Fiji before we were able to move forward, or flying 2.5 hours across to Brisbane (arriving at 6pm), getting us closer where we wanted to go.
Given we have a teething toddler, less time in a plane sounded way more enticing. And besides, who likes backtracking and waiting around for flight connections when you don't have to?
We thought a little more and decided that since we were going to be arriving at dinnertime after a very big day, we'd like to stay for a little while, but not in Brisbane.
So we jumped on the Airtrain, which runs direct from Brisbane Airport to the Gold Coast. The trip took us a further hour and a half plus a 20 minute drive to our resort, before we collapsed into our beds a little later.
Besides the logistics, stopping in Australia turned out to be a great decision for many reasons.
#1. We've Been Desperate To Replace Two Pieces Of Our Luggage
Yes, already. One of them was a brand spanking new red 4-wheel Flylite hardcase, which was damaged on it's very first boat ride in Fiji. A fair crack turned into a lost wheel, and it's been a nightmare lugging it around with three kids! We thought a hardcase would be more durable, but out of all of our pieces of luggage, it was surprisingly the first casualty.
#2. We've Been Desperate To Offload Stuff
Okay I admit it. I was a whisker away from an overlimit bag because I packed WAY too much.
I read all the warnings and stern advice from so many fellow travellers who made it very clear that overpacking was a bad move. But of course, I had to learn the hard way. I'll be posting lots of things back to Melbourne.
Oh, and by the way: DO NOT overpack.
You. Will. Regret. It.
#3. It'll Give Us A Chance To Refuel And Recharge
It's been a relief to be in an air conditioned room, as well as eating food (or typing on my keyboard) without dripping all over it.
February is the hottest month in Vanuatu, and this year it was super hot and humid. We spoke to an Australian woman who had been living there for five years, and she told us that she doesn't remember it being that hot, ever.
It's nice to reset, get some good night's sleep and shake those crankies out.
#4. As It Turns Out, A Friend Of Mine From Melbourne Is Getting Married Here Next Week
Fancy that! We wont be here to attend the wedding, but we certainly plan to have a celebratory drink or two.
#5. We Can All Get Haircuts And Buy Our Favourite Australian Products
My expensive salon shampoo exploded in my bag from our first flight. I was not happy Jan. I made sure I was well organised with my few favourite hair products, given we'd be getting lots of sun, salt and pool time, resulting in icky hair. So I had to use resort shampoo, which is never as nice as your own. Next time I shall try the plastic wrap under the cap trick.
Everyone is in need of a haircut too, and while we could have gotten them in the South Pacific, personally, I was a little scared after one of the kids had a trim.
#6. I'll Have Reliable Wifi
The relaunch of BellyBelly is due to happen on Monday the 2nd of March, and thank goodness it wasn't any sooner. One of the toughest things about being in the South Pacific was the seriously poor wifi. It was unreliable and expensive.
Now I will be able to do what I need to do and deal with any problems when the site relaunches – it will be a very exciting day! I guess it's fitting that we're in Australia for a special occasion.
#7. Australia Will Be Represented In Our Journey
Isn't that great?
Both BellyBelly and ATWPK have local and overseas fans and followers who want to travel to Australia too. So it was great to put Australia on our Around The World + Kids travel map (which you can see from the homepage). As much as I love my hometown of Melbourne, the Gold Coast is an awesome place for families – it's like a huge kids playground.
So while we had a logical reason for having to stop back in Australia, we are not at all disappointed, nor do we feel like we've 'ruined' anything. It's what we had to do.
I already knew we'd have ups, downs and challenges, so it doesn't feel disappointing. We'll deal with issues as they come along, making the most of each situation and focusing on the positives, as I have above (disclaimer: I reserve the right vent at a later date if things go to crap).
Because the world is our home, it doesn't matter where we stop. The kids are happy, we're happy, and we're all looking forward to our next adventure when we fly out of Australia in one week.
But this time, it will be until January 2016.
---
Kelly Winder is the creator of BellyBelly.com.au, a doula, writer and mother to three awesome children. In 2015 she travelled the world for 12 months with her three children, and hopes to inspire more families to do the same.
---