I Was Sure This Wouldn't Happen… But It Did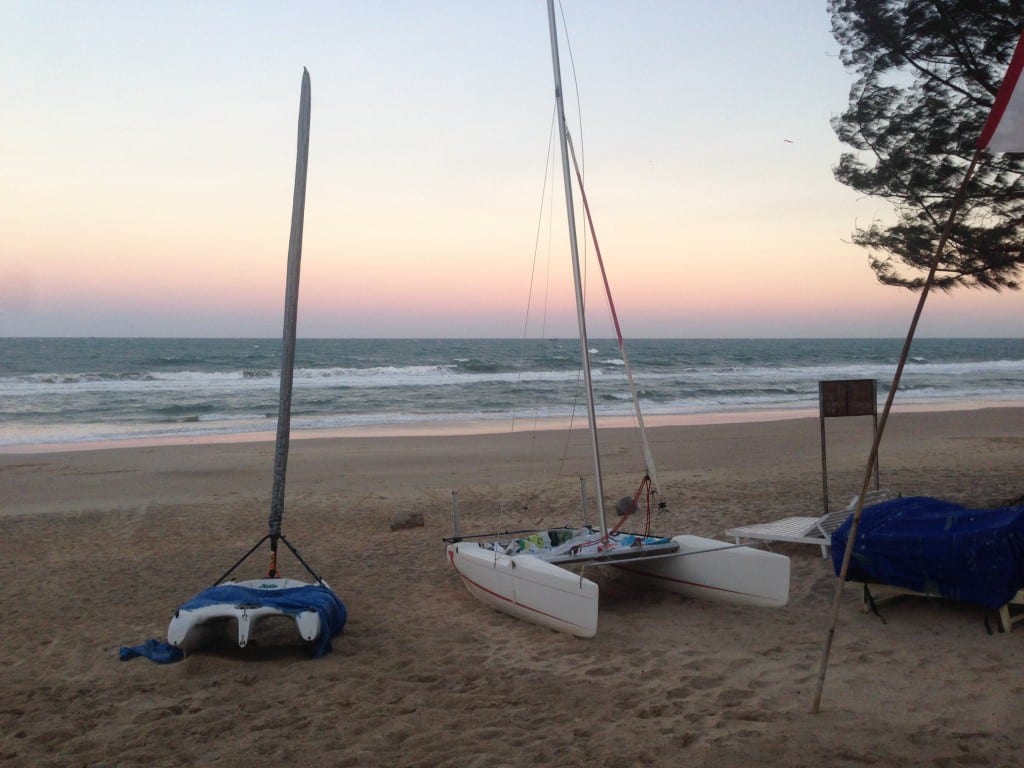 Can you recall a time when you were so sure about something, but it turned out to be further from reality than you expected?
For example, before you had your first baby, you may have been dead set against using a dummy (or a pacifier if you're in the US). Or perhaps you "knew" that your baby certainly wouldn't cry as much as THAT baby did.
Then reality came around, and you ended up with a bitter taste of what it was really like.
Well, that happened to me with a particular belief I had about travelling the world.
Before we left on our epic journey, I compared our 12-month, round the world trip to a regular one or two week holiday.
Do you know the feeling you get when you're on holiday (with whatever precious time off you have), and then BAM! Half way through, you get that feeling because you realise there's not much time left before you leave.
As every day passes, you start to feel down. You don't want to leave your relaxing, amazing holiday and head back home. You start to think about all the things you have on your to-do list, going back to work and so on… and that feels pretty crappy.
So, I figured we had it made. Since we were travelling for 12 months, there was no going back to reality for a long time, right? Sure, we'd be leaving often, but we'd have so many new places to visit ahead of us, surely I wouldn't feel the "end of holiday" blues?
Well, I have, several times now. How can this be?
It's actually quite simple — and I didn't even think of it before I started travelling because I didn't anticipate it.
When you're travelling long term, you see many new places you haven't seen before. You meet lots of amazing people and form connections and friendships with them. Only, you need to leave them behind.
There have been a few places I haven't wanted to move on from. There have been people I felt genuinely sad to leave behind, knowing I wouldn't see them again for a long time. For at least 12 months anyway, since we're travelling for the whole of 2015. Then we need to head back home for a bit.
Travelling the world is such an awesome experience and a huge privilege. I've had an absolute ball, as well as endured some really tough times. But one of the hardest things of all is leaving places and people behind when you really don't want to.
So, how do I deal with it?
I acknowledge how I feel, and at the same time, remind myself that we have left places before — only to love other places just as much, sometimes more! Because, you do! There are so many amazing places. Staying in one and missing out on others is just plain old crazy.
I remind myself to get present with what's around me. The best way to savour and take everything in is to be present. Putting away technology, taking a walk on my own and breathing in the environment. My favourite moments have been standing on a wide open beach, breathing in fresh sea air, feeling the soft sand between my toes and hearing the roar of nature as waves thunder in. There's so much power in those moments.
Focusing attention on all of your senses allows you to really experience where you are. It's important not just in nature, but with our partner and kids too.
I also remember that this is just the beginning of our world travel lifestyle. It's not goodbye forever. This trip is helping us to learn about what we like, don't like, and where we'll want to come back to someday. As soon as we leave a city, we know if we're going to come back or not. You see, once you get started with long term world travel, you know it's possible, so the world is available to you any time you want.
At the end of the day, no matter how long you travel for, you can end up sad to leave. It's still possible to wish you were staying longer and not want to move on. But that's okay, because it's such a blessing to have this opportunity in the first place. Thinking what this year would have been like if we didn't head off travelling just pales in comparison.
So, as we pack up from yet another place where we would love to stay longer, I embrace the feeling in my belly that's sad to leave, but trust my heart that knows I will fall in love all over again very soon.
---
Kelly Winder is the creator of BellyBelly.com.au, a doula, writer and mother to three awesome children. Currently she's travelling the world for 12 months with her partner and three children, and hopes to inspire more families to do the same.
---