World Travel For Under $100 A Day With 3 Kids? Yes You Can!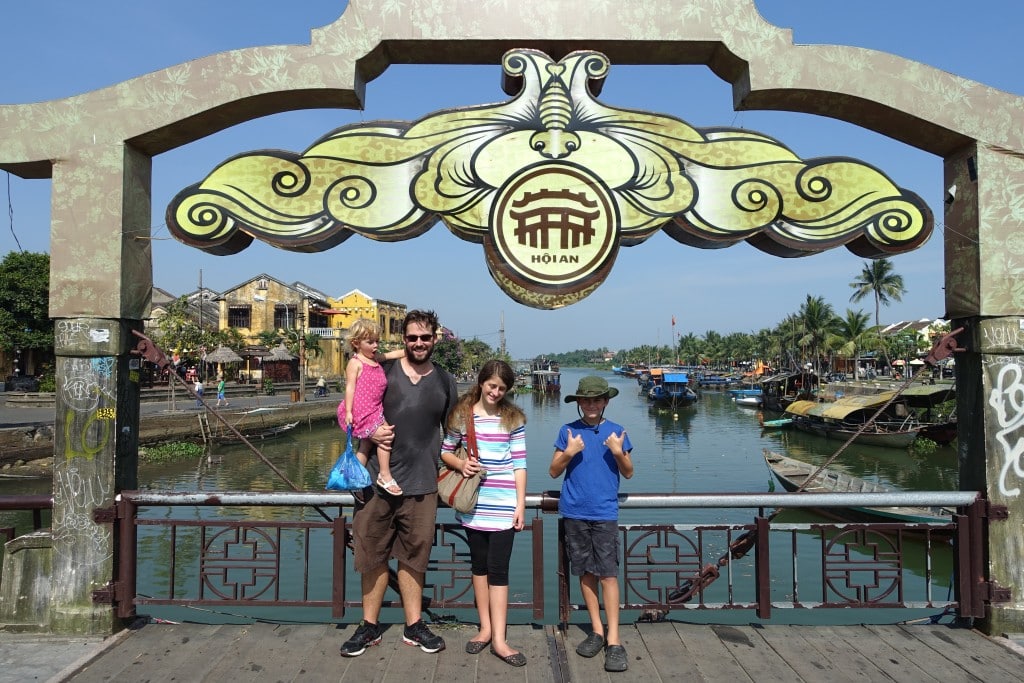 When we set out to travel for 12 months with three children, we absolutely knew we'd have to adhere to a budget.
But we didn't want to travel backpacker style either.
There's no way we're cramping our comfort — and you don't have to either. With a little research and know-how, you too can travel the world, long term or short term, for so much less money than you could imagine.
Below is a case study, so you can see exactly how we afford to travel the world for so long as a family of five. And not only are there two adults to consider, but two big kids — aka eating machines — and one toddler.
It may shock you that 99% of the time, we also book two rooms while we travel. This is mostly due to necessity (maximum capacities in rooms) but also so we all have space. After all, we're spending every single day together for 365 days. Otherwise, a small cramped room for five would result in a one way ticket back home!
We're living proof of how you can afford world travel on less than $100 AUD per day — that means a whole month of travel for around $3,000! And you thought you needed to spend that for a week or two didn't you?!
This is how worldschooling families do it – with many others doing it even cheaper than we do. Ready to find out how? Let's go:
The Location
Hoi An, Vietnam. One of our most favourite cities in Vietnam. Hoi An is famous for beautiful, bright lanterns everywhere (especially at night) and the magnificent ancient town, which takes you right back into Vietnam's past. You can also enjoy the beach life too — we just LOVE Hoi An.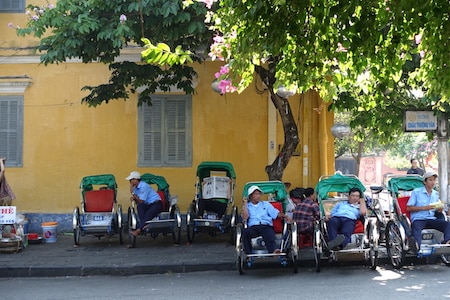 The Accommodation
Sourced from Airbnb (if you click the link, register and make a booking in future, we'll get a little bit of travel credit, which is much appreciated! You'll get some credit to get started too).
After initially looking at booking sites online, we cross checked with Airbnb. We happened to be travelling during Vietnam's huge Reunification celebrations, which were almost a week long. Accommodation was VERY hard to come by, let alone at a decent price.
So, we found the Kiman Hoi An Hotel & Spa, which cost us $60 AUD per night for the five of us. There were two interconnected rooms, one double room and one twin room. We felt like we found a real gem – the staff were amazing, the hotel was small and not overrun with guests, and the facilities were modern and very clean. There was reliable wifi and great air conditioning.
What more could you want?!
Airbnb mostly consists of private homes and apartments, which means kitchen facilities to cook your own food. This saves you even more money by not needing to eat out. But we find Airbnb to be an especially effective way of saving costs when you have a big family. This is because hotels usually require you to book two rooms when you have a few kids. Whereas on Airbnb, you just need to book one place, and you'll save a tonne doing so, especially in expensive cities.
But on this occasion, we were able to source hotel accommodation and facilities (and daily cleaning!) for a super cheap price.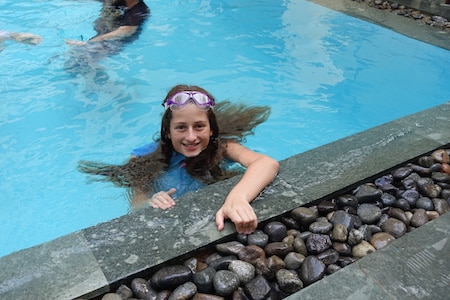 The Food
Breakfast: $0.
As with many hotels in South East Asia, breakfast is included with the room. So breakfast cost us $0, and we were very happy with the breakfast on offer. There was the usual offering of an egg chef, bacon, sausage, an array of fruit, a toast station and more.
Lunch: $5.
Lunch was super cheap. The cheapest lunch we had the whole time was probably the most delicious! After scanning through restaurant reviews on Trip Advisor, we came across Phi Banh Mi. I just noticed it's now rated #3 for restaurants on Trip Advisor!
The business owner, Phi and his wife are really lovely and welcoming. His menu offers you a choice of around 10 different fresh Banh Mi (Vietnamese rolls), from pork, to sausage, and even vegetarian. The flavour packs such a punch, he really has a winning formula! And all for just 15,000 Vietnamese dong each.
In case you don't know how much 15,000 dong is, it's just under $1 AUD. So that's lunch all wrapped up for less than $5 AUD.
I think Phi has raised his prices slightly since his increased Trip Advisor fame, but heck, it's lose change here folks! It's not like you're stuck eating a cup of instant noodles when you're on a budget.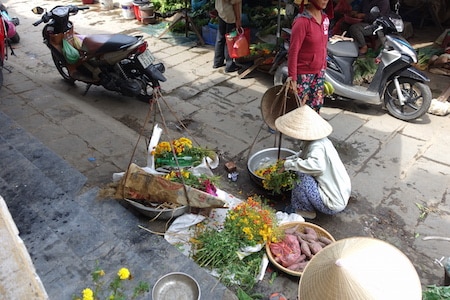 If only we came across Phi Bahn Mi sooner, we would have eaten there every second day… okay, every day. It really was the very best Vietnamese roll I have eaten in my entire life. And it was the only food I broke my wheat-free eating with. Whoops!
Total for our day so far, $65.
This leaves you $35 for dinner, which I can tell you is plenty. Throughout most of Vietnam, we never really paid more than $20-$25 for dinner when eating out — and we could have done better.
So, you will end up with plenty of loose change out of your $100 for any taxi fares you might need (we always used 'around us' features in apps to find good restaurants within walking distance, but taxis are super cheap anyway) and any treats like cool drinks, a fresh coconut or more.
Bottles of water are ridiculously cheap (I am talking a few cents, not dollars!) and beer is just as cheap. We often drank coconuts for hydration and when we had upset bellies too. So you can enjoy your holiday, absolutely.
Even while in Cambodia, we bought a bottle of Smirnoff vodka for $6.45 USD, and for a couple of dollars extra you could get an even bigger one. No party pooping needed when you travel! But we do try to stick to water as much as we can, as tummy bugs can be a problem while travelling in some areas.
There are lots of ways to save money while travelling, but that's for another post! For those who have fewer children — or younger ones — you could save even more. Feeding four adult-sized tummies is one of our biggest expenses.
Only when you put in some effort to research will you clearly see how affordable it is to travel the world, on so much less than you could have ever expected. If you want to travel on less than we did, it's totally possible. It all depends on what you're most comfortable with. We know families living comfortably (and eating well!) in places like Thailand for around $1,500 a month.
When travelling shorter term, homestays are cheap as chips, and many have very high ratings on travel booking sites. Often when we seek accommodation, we sort it by the highest rated places — and it's often the hostels, homestays and cheaper accommodation that are right up the top. This is because they not only offer cheap accommodation, but it comes complete with a side serve of awesome personalised service, as well as local insider knowledge and advice. Give it a try!
Check out Airbnb or run a search on Booking.com. See how far you can stretch your dollar and make your travel dreams a reality, sooner.
---
Kelly Winder is the creator of BellyBelly.com.au, a doula, writer and mother to three awesome children. Currently she's travelling the world for 12 months with her partner and three children, and hopes to inspire more families to do the same.
---