Singapore Accommodation – Our Family Saved Hundreds!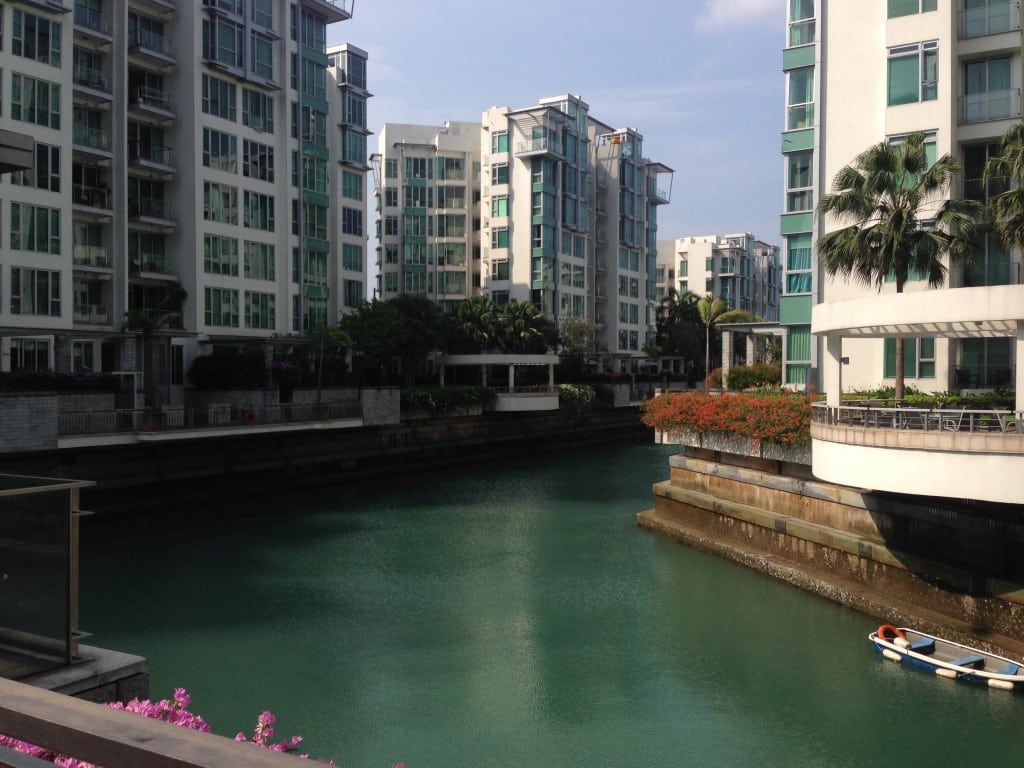 Family accommodation in Singapore can be an expensive feat, especially if you have a family of three or more children.
Those who have traveled around Asia with children will well know that finding a family room for more than 2 adults and 2 children can be challenging. Not to mention a big stretch on the budget.
Singapore accommodation is no exception.
Our original plan was to fly into Ho Chi Minh City via Bali, but all of the flights we could find had long stop overs of 5-12 hours — in the middle of the night.
Therefore, we decided to stop in Singapore for a few days for some downtime. The plan was to take a more sensible flight to Ho Chi Minh City.
It wasn't until after we made those plans that we checked out Singapore accommodation prices — we couldn't believe our eyes!
We already knew Singapore wasn't a cheap city, but with three kids and being too late for any early bird specials, it was going to be difficult on the budget we hoped for.
The main problem was that we'd need to book two rooms at the majority of properties, as four persons was the maximum capacity.
Hostels had room available, but we didn't want to choose that option.
>> WANT MORE HOLIDAYS, MORE MEMORIES AND MORE FUN?! Check out a quick 5-minute video to find out how you can travel with your family more often, and better yet – earn money while you do it! <<
So, how did our family find affordable Singapore accommodation?
We could have pushed the budget and forked out way more than we wanted to, but then we'd also have food and entertainment costs on top of that.
It was going to be a very expensive three days – and since it wasn't a special occasion, we couldn't justify it.
We just wanted down time in Singapore for a few nights and we didn't want to break the bank over it.
Then I remembered Airbnb.
There are so many positives to using Airbnb for accommodation needs, especially when:
You're in an expensive city
You have a larger family
You want to save money
You're after all the usual home facilities, like a washing machine and dryer
Just because!
A quick search revealed that not only could we find something at or below the price of a hotel room for one night, but we wouldn't have to get a second room. That alone saved us hundreds right there.
On top of not needing a second room, we could do our own washing (saving us laundering costs), there was free wifi and we could cook all our own food, saving us so much money on meal expenses.
One star hostels were going to cost us around $400-$700 AUD for three nights, and it wasn't the level of comfort we wanted, especially with a toddler.
The cost went right up to $1200-$1500 for the five star rooms and apartments — remembering we needed two rooms.
Emailing many properties asking for the extra person did not get us anywhere, even though we didn't need extra bedding, as our toddler sleeps with us.
Instead, in a quick search of Airbnb, we found a very comfortable three bedroom apartment in a great location for only $288 per night.
There were others listed for closer to the $200 mark too!
What we spent was a bit over our target budget, but we decided to go for it as:
a) we knew Singapore would be a stretch unless we compromised on comfort
b) the location was amongst the closest properties to all of Singapore's family attractions, so we knew we'd also save time and money on transport
c) we were about to head into Vietnam where our cost of living was about to drop significantly.
The apartment we chose was located in a complex, which came complete with a massive swimming pool, modern playground, gym and so much more.
It's like being at a resort, but without the hefty price tag!
And because a young family lived in the apartment normally, our toddler was extraordinarily happy to come across lots of age appropriate toys she could explore.
Your environment is so much more relaxing when you're not worrying about your children breaking expensive items in an expensive hotel. It's just like being at home.
So if you're looking for Singapore accommodation — or to stay anywhere else in the world — give Airbnb a try.
You'd be surprised how easy it is to score some comfortable, cost effective accommodation for your family.
You can even register your own home with Airbnb, so when you want to travel or take extended breaks, you can earn income too.
Simply manage your calendar as to when it's available and it'll come up on searches for others to book it.
By using Airbnb, you can do long term travel cheaper and for longer.
And if you click THIS link to visit Airbnb, you'll get a free $33 credit from me, to help get you started. We'll also get a little credit too, which we very much appreciate!
>> WANT MORE HOLIDAYS, MORE MEMORIES AND MORE FUN?! Check out a quick 5-minute video to find out how you can travel with your family more often, and better yet – earn money while you do it! <<
---
Kelly Winder is the creator of BellyBelly.com.au, a doula, writer and mother to three awesome children. Currently she's travelling the world for 12 months with her partner and three children, and hopes to inspire more families to do the same.
---