3 Biggest Ways We Beat The Melty Cambodian Heat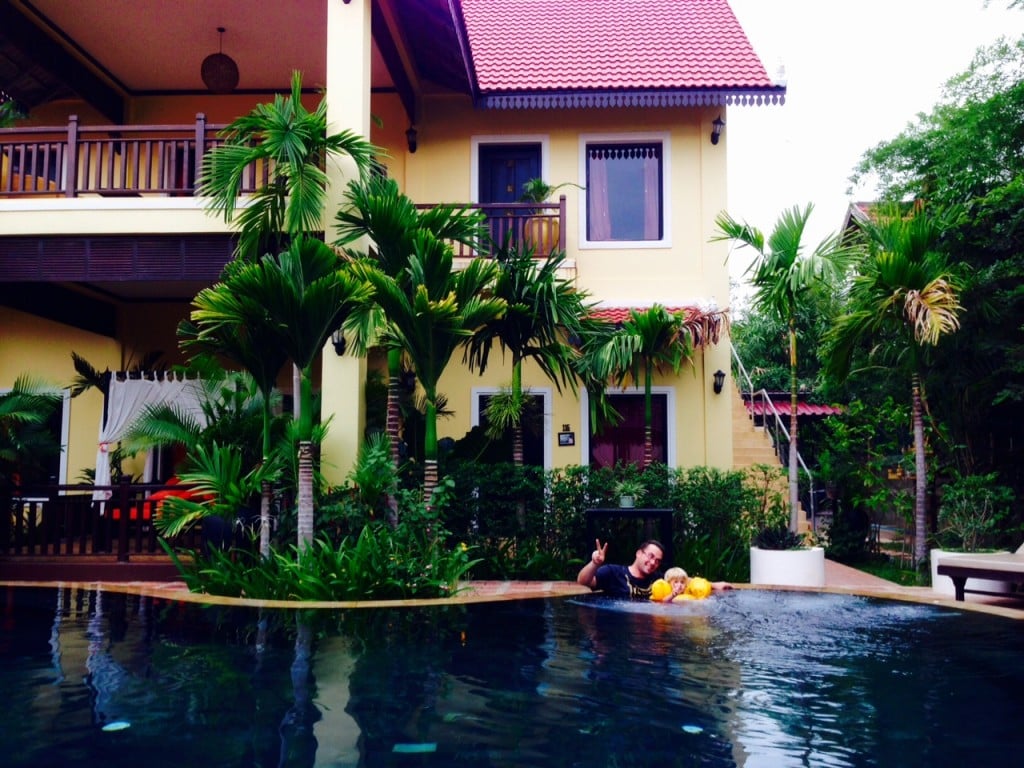 Apparently, it's supposed to be the monsoon rain season (begins in May-June). But the hot sun beating down makes it feel more like an Australian summer, with temperatures in the high 30s (Celcius). Then there's the humidity. Even the locals are scratching their heads at the lack of rain, and the really hot, melty weather.
As I wrote in my article about my 8 best tips to enjoy travelling with a toddler, our poor daughter was so hot and bothered going out for lunch one day, she ended up with her first blood nose. Toddlers can really get hit for six when travelling in hot weather.
As a result, unfortunately we haven't been able to visit Angkor Wat yet. It's apparently stunning in the wet season (wherever that is hiding at the moment). So we really can't wait! But after seeing people drenched in sweat after returning from the sunrise tour for a few hours, we're hanging off in hope that some rain will be here soon and it'll take the edge off the heat. In the meantime, we're doing all we can to lay low and keep cool. Sounds pretty boring, but essential for sanity.
So, how do we beat this melty Cambodian heat? Here are the 3 main ways we keep our cool in a hot situation:
#1: Choosing Appropriate Accommodation
We've booked accommodation at three different hotels/villas in Siem Reap so far — all based on what is most important to us in the heat. We always keep in mind what facilities the properties offer, so we are able to keep the kids cool AND entertained.
They must have air conditioning in the rooms, as well as decent restaurant offerings, as we tend to eat in-house more than we do out and about. We'd love to eat out more, but with a toddler not coping, we're lucky to get out for lunch in the peak heat (most restaurants only have fans, not air conditioning). At night, she's likely exhausted and not in any mood to go anywhere.
Night is a great time to go out though, as it's a nice temperature and everything comes alive, including the night markets. Everyone else has the same great idea to get out and about when the sun has gone to bed. So if we can pull it off, we use the evening to explore.
#2: Pool Time
In the afternoons after the sun has dropped enough to have shade in the pool, some or all of us hit the pool. We wont stay anywhere that doesn't have a pool, and not only for the cool-off factor, but also because most hotels in Siem Reap are not set up for children. It's very difficult to find somewhere with a kids club, playground (in the hotel) or other kids activities. If we spot one with a pool table, even better, as it keeps the older kids happy too. But a hotel with a pool is a must in Cambodia at this time of year. It's given our toddler loads of water confidence and we all enjoy the feeling of a lower body temperature!
We also get an opportunity to mingle with the guests and find out lots of helpful information. For example, yesterday Doug spoke to a couple who were going around the world too, but in six months! We thought 12 wasn't enough! But because they were travelling in the opposite direction, we were able to let them know all about our 6 weeks in Vietnam (their next stop) and we could find out more about Europe. Talking to travellers is super interesting! Especially because they tend to be just as excited about travel plans as you.  But you also pick up very handy tips which save you time, money and stress.
#3: Hibernating In-Room
As much as you might think it's a sucky thing to do when you're travelling, hibernating is sometimes the best — and most pleasant — thing to do. In fact, we've come to enjoy it now, because it's so much more comfortable than being outside. Even after lunch in the open-air restaurant, our toddler is wanting to go back to the room because she's feeling weary. It gets hot quick.
After lots of moves earlier in the year, we're loving slowing down. I'm catching up on work, the kids are happy and relaxed, so that's all that matters. The kids keep busy doing an hour learning each day (see my article on 10 free or low cost education websites). My daughter is doing an online course in web development and I can't believe how well she is doing! My son is working through Study Ladder and doing a great job. Our toddler has some learning apps she plays with on the iPad and aside from that, we try and get the kids out once a day, even if it's a quick tuk-tuk ride into town for a fruit shake or ice-cream. It's a guaranteed way to cool all of us down.
---
Kelly Winder is the creator of BellyBelly.com.au, a doula, writer and mother to three awesome children. In 2015 she travelled the world for 12 months with her three children, and hopes to inspire more families to do the same.
---