Hardcase, Softcase or Backpack For Your Luggage?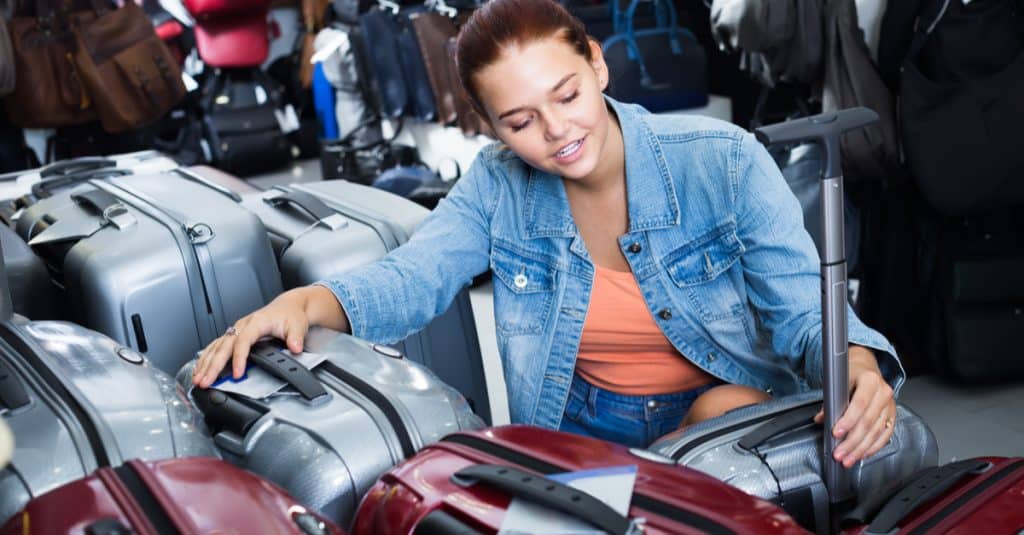 One of the many things you'll research when planning long term travel is what sort of luggage you'll want to use for your trip.
It's really important to have reliable luggage – after all, you'll be living out of it for an extended period of time.
And, depending on how many stops you've planned, it'll take quite a beating on every flight or trip.
When we were planning our year of travel, we couldn't decide which type of luggage we wanted. I've always loved my softcase, but I also wanted to be open minded enough to try something else.
For the sake of being guinea pigs for our readers, we settled on one of each type – a hardcase, a softcase, and a backpack.
Our budget was around $100-$200 AUD per piece, but we were open to buying less expensive luggage, as long as it wasn't poor quality. We didn't want cheap and nasty luggage that wouldn't last the distance, but we didn't want to break the bank either.
We had decided to begin travelling in mid January, which was lucky because, before we left, post-Christmas sales were in full swing. We scored bargain prices on some great brands. We needed five pieces of luggage in total, and did quite well for ourselves!
One bag was a Christmas gift and cost us nothing. The name brand hardcase I used was free too. I traded in all my points in a shopping loyalty program to purchase it. So we only had to pay for three pieces of luggage for a family of five.
Unfortunately, in spite of all our research and effort, the first luggage casualty occurred when we were departing from our very first stop! Great! We hadn't even got as far as changing countries; we had only changed locations.
Which piece was it?
Find out which luggage made the distance and which didn't: you'll probably be quite surprised.
#1: The Hardcase
As you already know, we did a fair bit of luggage research before we left home.
I once read a horror story about a passenger who packed a bottle of vodka in a piece of checked luggage – a softcase. The bottle ended up smashed during transit, soaking another passenger's suitcase and clothing in vodka. As a result, we thought a hard case would be a pretty good option. Even though we didn't plan on travelling with a bottle of vodka, someone else might, right?
The hardcase was a really good brand – definitely not a cheapie. We opted for four wheels instead of two for ease of steering, and made sure the wheels were well attached to the case. I'd read about some people losing a wheel or two in transit – something they believed to be a flaw in the design.
This case looked great! It was a glossy red colour, and it looked and felt really tough. We expected this one to outlast all our other luggage.
Low and behold… it was the first to go.
The first country we visited was Fiji, and we had to travel between islands by boat. What we think happened was that when the bags were being thrown into the boat for the trip to the next island, our suitcase copped a blow near the wheel. As we were getting out of the boat, we were handed the hardcase and we noticed there was a crack, near one of the wheels.
Over the next few weeks, the crack got bigger until one day the whole wheel fell off. It was a nightmare having to lug it around on three wheels, let alone with three kids in tow,  including one who wanted to be carried at times. So we ditched it.
Disposing of a suitcase can be a surprisingly hard thing to do while you're travelling. Where do you leave it? There are no big bins or other places you can dispose of such a large item.
Not only did that experience leave a bad taste in our mouths, but I found using the case was a pain too.
To go through the suitcase, you have to open up both sides, like you would open a book. And it takes up so much room when you're looking for something. If you have a lot of stuff in each side, the case can also get quite heavy.
Needless to say, we didn't like the hardcase, and we would never buy one again. It lasted just one flight and was the most expensive suitcase I have owned in my life.
The only exception to this was the carry-on sized suitcase, which was a corporate Christmas gift Doug had received from work. We decided it would be Amaya's suitcase. After all, being carry-on size, it would save us the cost of checked-in luggage, and it was tough.
It wasn't a name brand; I assume it was just a cheapie. Ironically, it was still going strong after we returned home. It also made an awesome ride-on when Amaya's legs got tired. I didn't mind it but, like the full sized suitcase, you need to open it like a book, and when it's full of stuff on both sides, it's a pain.
#2: The Softcase
I had always used softcases in the past, and we've owned quite a few of them. We chose a couple of different softcases for our journey. We purchased them all brand new, so as to give the bags a fair trial.
There was one exception: we used a cheapie softcase Marisa already had. She had used it a couple of times when she travelled to Sydney to see her dad.
Thankfully, there were no problems with smashed bottles of vodka, or anything else. The bags were all four wheelers, nice and easy to move around.
Opening them was so much easier than the hardcase; you just unzip and flip the lid.
All of the suitcases survived the year really well. They all looked worn, as expected, but only Marisa's pre-used suitcase was close to needing replacing. Being a cheapie we hadn't expected it to have a long life, but to have done a year of travelling without losing functionality was fantastic.
I would definitely buy a softcase again, but travelling the world with so many full-sized suitcases was a bit trying at times – mostly because we also had a toddler who couldn't carry her own things, and often needed to be carried herself .
Having a toddler weighing around 15kgs sitting on my hip, and pulling my own suitcase (which always weighed a bit more than the 20kg limit), I was exhausted at times. Doug was a great help, though. He often grabbed my case, because he had an awesome…
#3: The Backpack
I was a bit nervous about using a backpack, mainly  because I was worried  the weight on my back would cause pain. So Doug stepped up and volunteered.
After a few visits to Katmandu stores, we chose a solid looking backpack designed to be the maximum possible size to meet the carry-on requirements. Bingo! We'd also save on luggage fees.
We now had two pieces of luggage we didn't have to check in, which saved us an average of $40-$50 per flight – hundreds in total, and equivalent to the price of a couple of hardcases.
Right away, the backpack started on a positive note. Like the softcases, it wasn't going to crack when when it was tossed around.
Using a backpack and rolling up your clothing is a great way to save on space, and it frees up your arms to do other things – like pull your toddler's suitcase.
The backpack wasn't at all clunky looking, but sleek and black, and made from tough materials. Even after we returned, it was still in great condition. It could quite easily do a few more trips around the world.
Like many other world travellers out there, I'm a backpack convert. I didn't think I could manage without having a big suitcase that could fit in everything, including the kitchen sink.
But, as most travellers will tell you, weight is everything. Less is more. The longer you travel, the more you tend to throw out and the less you need.
If your holiday involves one trip, of course, a suitcase is fine. But when you're on the move, you really appreciate light, durable luggage you can use with ease – especially when young kids are involved. You can even get cool backpacks for kids.
Everyone is different, of course, but after a long time travelling, our family's experience of different types of luggage showed us that the combination of backpacks and softcases really did work.
…
What do you think? Let me know about your experiences with different types of suitcases.
---
Kelly Winder is the creator of BellyBelly.com.au, a doula, writer and mother to three awesome children. In 2015 she travelled the world for 12 months with her three children, and hopes to inspire more families to do the same.
---