When A Travelling Parent's Nightmare Comes True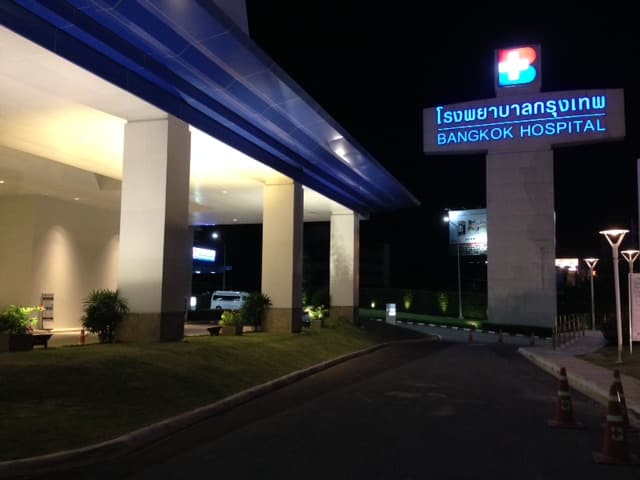 From the minute we arrived in Pai, we fell in love.
This mountainous, small rural town located 146 kilometres northwest of Chiang Mai was full of rice paddies, clouds weaving in and out of mountain tops, and the energy was so chilled. You could literally feel the stillness and calm in the air. We knew Pai was going to be a place where we could easily 'get stuck', just like we had in Siem Reap.
However, our time in Pai was going to be severely cut short, we just didn't know it yet.
We spent two nights in the beautiful Oia Pai Resort & Spa, before moving onto the PaiCome HideAway Resort. It was Tuesday the 4th of August when we checked in.
For the first night in our new accommodation, we decided to catch the resort's 6pm shuttle into town, so we could try some local eateries. We had a delicious (and a bit too spicy!) Thai dinner, as we sat in an open air restaurant by the street, observing life going by. We joked at the sign on the wall that read "Do not dispose of waste into a fish," while wondering where the fish actually were.
After dinner, we decided to end the night with a stroll through the night market. The kids decided to try something new — I love it when they do that! Even though we had no idea what was being poured into the bamboo tubes we spotted from a distance, the kids wanted to try it! Their reward? Sipping on a jasmine and mint iced tea, which cost 30 baht each ($1.15 AUD, and much cheaper for refills). They loved it! I tried a sip of my son's tea, and immediately realised why they all liked it so much — it was very sweet. And right before bed, urgh!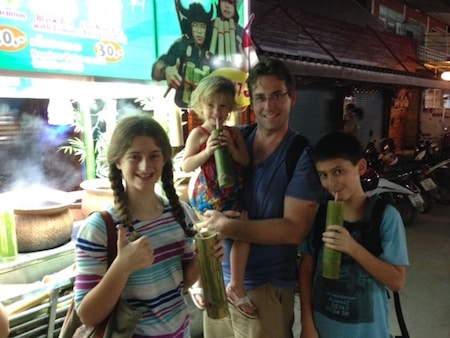 We began the walk back to our shuttle's pickup point and got caught in the rain. We had a laugh as we huddled under a closed shop, as we waited for the shuttle. We'd had an awesome night, and couldn't wait to explore this gorgeous, quaint town even more.
But things started to change when we returned to our room.
Marisa mentioned having an upset, crampy belly, which began not long after having the drink. She joked that maybe she ingested a parasite from the drink — thanks to the terrifying series, Monsters Inside Of Me. The show seemed to be screening in every country we'd visited, and shared people's stories of encounters with rare parasites, making them very ill. The kids became obsessed with it.
Later that night when we were all tucked in bed, Marisa's cramps began ramping up. She sent me a message (we had booked two rooms, in order to accommodate all of us), saying she was feeling really crampy and needed to go to the toilet, but couldn't. Since we'd had numerous tummy bugs during our travels, we thought it was yet another bug. I suggested a warm bath for her and we'd see how it went from there.
The next morning (Wednesday) I asked her how her bath was. She replied saying the bath only helped her while she was in it. Marisa was still having cramps and couldn't go to the toilet. So we guessed that maybe constipation was the problem.
But as the day went on, things got serious, and I grew very worried.
When Doug and I were organising lunch for everyone, Marisa continued to send me messages from her bed. While her pain was coming and going, it was getting stronger. She had pain when walking, bending down and lying on her side — anything to do with movement. She started getting emotional too.
It sounded very suspicious to me. I asked her to show me exactly where it was hurting. She pointed to her right side of her abdomen, towards her hip. I quickly realised this wasn't constipation, and her symptoms triggered memories I had at her age, when I had appendicitis.
It was not long until the doctor was due to open his clinic, so we decided to get ourselves organised and head in. I went to the bathroom, and as I came out, I saw Marisa crying over by the window. I held her as she cried on my shoulder. "It hurts when I stand, it hurts when I lie down, everything hurts," she sobbed. Whatever it was that she had, it was progressing really fast, with little lulls in between strong bursts.
I told my partner, Doug, that we had to get her to the doctor right now. We just had to go. So at 5pm and with Marisa in tears, the resort manager drove us to the clinic. He translated that we suspected she may have appendicitis. The doctor was due to come in at 6pm, an hour later than what we thought, so they sent us straight to the Pai hospital.
I was so glad we were finally getting help for Marisa. But as I walked into the hospital, I cried, screamed and yelled on the inside. It was dark, run down, and far from sterile and clean. There was no way I would allow any sort of surgery or sterile procedure to be done here.
The picture below isn't terribly clear, but I was far from a peaceful frame of mind. On the last cupboard on the right (near the bottom left sign), there was a bug which we thought was a cockroach. It may have been, but we also saw others similar bugs around with wings, so who knows. But the lack of hygiene was scary. The cupboards weren't clean, there was a pool of water on the toilet floor, and every few minutes, it seemed, another tourist was coming in with a bad motorbike injury. We saw quite a few bloody, gashed up legs from knee to ankle. Often the medical curtains weren't used, it was just horrible.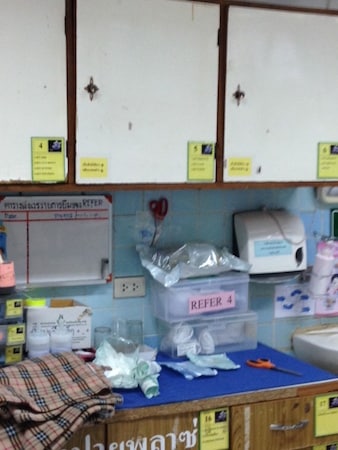 I'm sure any parent could easily imagine the vile feeling of knowing you're in an ill-equipped medical facility with a very sick child, waiting for urgent treatment. Marisa was suffering from increasing pain, and tears were now constantly streaming down her face. I knew we had no choice but to transfer to Chiang Mai, which was some 3-4 hours away. I started to break down on the inside, feeling helpless at the whole situation.
Finally the doctor on duty came to see Marisa. She was weighed before being popped onto a bed. They took blood to test for appendicitis, which was Marisa's first ever blood test, and I could see the fear in her eyes. She was so frightened – not only at the state of the hospital, but also being in another country, where English was poor and she was facing surgery.
Adding to our frustrations was the fact they didn't want to give Marisa pain relief until the test results came back. So while we waited for answers, Marisa waited in pain. It was so hard.
Our two year old picked up on the energy and was having a complete meltdown herself. While trying to juggle being right by Marisa's side and calming our toddler, I frantically connected with my Facebook contacts to try and get some medical advice. I'm utterly blessed to have a huge network of wonderful people I am connected with. I don't know how I would have coped without them. With doctors, nurses, midwives and health informed friends right at my fingertips, I count myself as one very lucky woman.
The tests were taking some time to come back, and I was growing impatient. So I told Doug to take the two other kids back to the room and pack. He also had to return a motorbike we hired – we were just getting the hang of it and having fun. He was hesitant having to make such a big decision to leave, saying, "shouldn't we wait until it's diagnosed?" But I just knew this was it. I'd had the same thing at her age, and it didn't take a blood test to prove it to me. So the three of them left.
While they were gone, the blood test came back as inconclusive. They then took a urine sample to check for a UTI (urinary tract infection) which can have painful symptoms too. But before the results had even come back, I told them to arrange a transfer to Chiang Mai. I didn't want to risk a wrong diagnosis and then have to transfer when things hit the fan. But, where do you transfer to? I couldn't trust their word for it — Australian standards of "good" were surely going to be a bit different to Pai's. Thankfully through my Facebook network, a couple of my friends knew expats in Chiang Mai, and eventually I had some recommendations of the best places to go. Phew. The transfer was arranged.
Now it was time to move on, I asked the hospital to please give her pain relief for the trip. But again they refused.
They wanted her to arrive in Chiang Mai with symptoms for the doctor to see. I was gobsmacked.
"That's how we do it in Thailand," the doctor told me. "It's not how we do it in Australia," I replied.
I frantically messaged a friend of mine, a wise doctor, who told me it was rubbish to let her suffer like that, especially for a 3-4 hour journey. He said the drugs should have worn off enough by then, especially if they gave her a lower dose. He suggested which medications and doses I should ask for, and I pushed hard. As Marisa was being wheeled into the ambulance, tears still streaming down her face and now rolling side to side in pain, I ended up resorting to begging them before it was too late and we had to go. I said, "Please. I am asking you to give her pain medication for the transfer. I am asking you."
Reluctantly they agreed, and gave her some pain relief in the back of the ambulance. As a bonus, they gave her something for nausea too, as she thought she was going to throw up. It was definitely needed, as we faced a bumpy, winding trip down the mountain into Chiang Mai. I was beyond relieved to see them doing something that would give her a break from the relentless pain.
I watched as the nurse injected the drug into the IV, but it looked like a much lower dose than I asked for. But it was something. I hoped and prayed that it would be enough for the whole way there.
My partner arrived back at the hospital at that point, at around 8pm. He had our passports, which were needed to obtain healthcare, and our money. He paid for the bill so we could leave. All up, the care and transfer cost us 3800 baht or $146 AUD (the transfer with a nurse was 2500). We were off.
Getting To Chiang Mai
After we left Pai hospital, I glanced my phone. After all of the correspondence with my Facebook contacts at the hospital, I had only a tiny bit of mobile battery left. Doug luckily managed to find a last minute driver, to get a minivan transfer into Chiang Mai. He knew which hospital we were heading to, but the idea of not having any battery left to communicate with anyone sucked.
As we drove out of Pai, my mind wandered and reality began to sink in. We had 3-4 hours ahead of us. I began to freak out, thinking:
If she has appendicitis, what if it bursts?
Was there any pain relief in the ambulance?
What if the pain relief wears off, and she's in agony for half, even a quarter of the trip?
What if we had an accident coming down the mountain, due to unsafe drivers that are common in this region?
I even worked myself up so much that I worried about what others might think of the whole predicament, and our choice to go travelling. For someone who is normally calm and straight thinking with medical issues (you have to be if you're a doula, supporting women at birth!), I didn't like this whole 'out of control' feeling one bit. And I truly understood why mothers can make terrible birth doulas! No mother (or father) wants their own child in one iota of pain. And if they are, they want to fix it, yesterday.
Yep, I was a tired, emotional wreck. Fortunately, not long after we left, the pain relief kicked in and Marisa passed out. I can't tell you how much peace that brought me. I just wanted to cry to relieve the immense pressure of the whole situation, but held it together. It was giving me a headache, but I didn't want her wake up and see me falling apart, when she needed me to be strong. She was terrified of having surgery and me being upset would no doubt leave her more terrified about what was ahead.
I didn't want to take my hand off her leg, but travel sickness kicked in really badly — the worst I've experienced in a very long time. I was worried I was going to throw up. I signalled to the nurse that I needed a bag, rubbing my belly to try and communicate I felt sick (the nurse spoke no English at all). They stopped the ambulance and I moved into the front. I didn't want to, but the alternative was not appealing. The nurse hadn't let go of Marisa's arm the whole time, so I had comfort in that Marisa would know someone is there.
The Bangkok Chiang Mai Hospital
Luckily, we made it to the Bangkok Hospital Chiang Mai at around 10-10:30pm, without Marisa waking in pain. She stirred a few times with the bumps, but finally had some relief. As we pulled up into emergency, the staff quickly brought her inside and put her on one of their own beds. Suddenly, the worst pressure was off: we were in a brand new hospital with a high tech emergency department. There were sparkling clean walls and floors, awesome staff who were well trained, polite, kind and quick to help. I felt like Marisa was safe here.
A doctor soon came in and said since her signs are conflicting, a CT scan would be best. She had still been hungry, despite the pain. I read this can happen with younger patients who have appendicitis, especially when they haven't eaten for a while. She also had lower white blood cells than expected for an infection, so the scan would pick up any possible reproductive issues or other causes in the area.
The emergency nurse placed a catheter in her right arm, took some blood to check liver function (to make sure it was okay to proceed with the CT scan), and when we had the all clear, the CT scan was organised.
It was now when the pain began to return, and it was getting stronger, fast. The doctor wanted to wait until the results of the CT scan, but because the pain was strong, they decided to give her some fentanyl (which is often used for pain before, during and after surgery). It wore off very quickly though, and she was again in pain, in what felt like half an hour.
But as I asked — yet again — for more pain relief, they  received the results and could now give her morphine.
It was horrible — all I had seen was my poor daughter in tears of agony for the last few hours, else knocked out due to medication. It broke my heart sitting right by her, watching her sleep. From a happy, cheeky girl just 30 or so hours earlier, to this: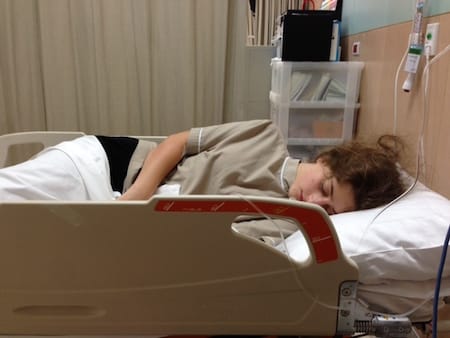 The bed rail was my pillow for several hours, as we waited a room for her.
She did have appendicitis, and surgery was scheduled at 9am that morning. She was able to have pain relief until she had surgery, so she was comfortable. Thankfully we caught it early (hence the lower than expected white blood cell count). But for my daughter to be in that amount of pain, there was no way I was going to be waiting around to see what happened. Especially when care was 3-4 hours away. Even if we found out that she had a really bad case of constipation, I didn't care. You don't want to play roulette with these things.
Marisa — the trooper — managed a thumbs up when we made it to her private room (which was very nice and included lots of comfort measures). She was the most comfortable and coherent I had seen her in a while, at 4am on Thursday morning when I took this picture in the comfy sofa bed beside her. It lifted my spirits: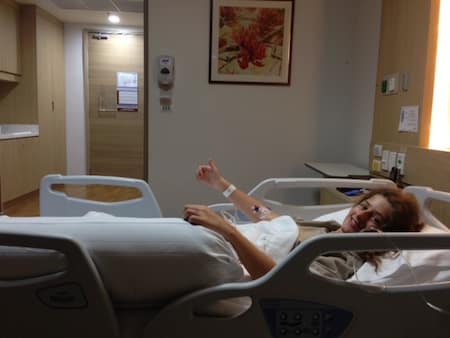 Five hours later, she was in surgery and the nightmare was over.
To make matters worse, unfortunately, we had the wrong type of insurance, and none of this was covered. So it's been a huge financial blow, but one I wouldn't hesitate to pay again if I had to.
We're changing our insurance to World Nomads, which was recommended to us by loads of other travellers, and covers trips where you're move from country to country or long term. I wish we went with them in the first place, and saved ourselves from any loopholes and therefore thousands of dollars. But lesson learned. We now have a healthy pain-free daughter who is on the road to recovery. And in future, we'll have better insurance to relieve the financial stress too.
What world travel experience is complete without a dramatic hospital dash?! It certainly provided one heck of a Thai souvenir for Marisa. Hopefully, this will be our first and our last.
Finally, I cannot recommend the Bangkok Hospital Chiang Mai enough. Nothing was too much trouble. When I arrived through their doors that night, completely cut off from telecommunications (both my phone and Macbook were flat), they found me a phone charger. I hadn't had dinner from the night before, and they found me a hot chocolate, water and some biscuits, since the cafe was closed. They never once got impatient with my concerns or requests for medication for Marisa.
Knowing what I know now about the private hospital care available in Thailand, I will never fear having to visit their hospitals ever again. They offer fantastic care.
---
Kelly Winder is the creator of BellyBelly.com.au, a doula, writer and mother to three awesome children. Currently she's travelling the world for 12 months with her partner and three children, and hopes to inspire more families to do the same.
---